Palm Beach Gardens Ousts Royal Palm To Reach 7A-11 Finals
The Palm Beach Gardens Gators find themselves in exactly the position that any team would want to be – with a chance to defend its district title. The defending 7A-10 champions earned the chance to add some more hardware to the trophy case by advancing to Thursday's 7A-11 title game with a 6-2 win over the Royal Palm Beach Wildcats in Tuesday's semifinal.
Gardens will take on the Palm Beach Central Broncos, who also reached the championship after a convincing win over the Forest Hill Falcons.
Robbie Throop set the tone on the mound for the Gators (17-7), as the senior took the ball in the start and never gave it back to earn the complete-game victory. The right-hander struck out seven in seven full innings, scattering five hits and two walks and allowing two earned runs.
"Robbie Throop was outstanding again tonight for us," Gators Manager Matt Judkins said. "He's the definition of a bulldog on the mound; he wants to start and finish every game he pitches. He's been our rock throughout the season."
After Throop worked his way out of trouble in the top of the first inning, his offense staked him with a big lead in the bottom of the first thanks to a home run from Blake Matthews. Josh Hogue singled to center with one out, Jayden Hylton was hit by a pitch and then Matthews jumped on a 1-0 offering for the three-run blast to left field.
"Our lineup has been our strength all season and it makes it very difficult for opposing teams to get through the middle of our order when string together competitive at bats," Judkins said. "Blake Matthews started us with a three-run home run in the first and that was the momentum we needed."
Hylton added an RBI double in the third to increase it to a 4-0 lead.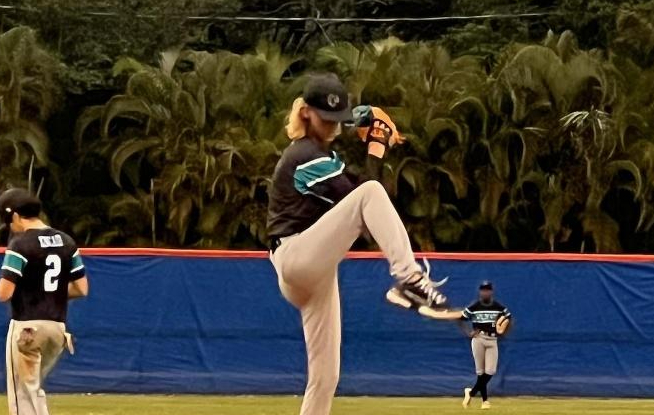 The Wildcats (6-16) got the bats going to answer back with both of their runs in the top of the fourth. Junior Brendan Kincaid led off with a single, advanced to third on an error and scored off an RBI single from Shane Causey. Sophomore Edward Wood then delivered an RBI double that cut the deficit in half.
But Throop held the line from there, tossing three scoreless frames to close things out.
"We left too many runners on base, but credit Royal Palm Beach for making tough plays and keeping our hitters off balance," Judkins said. "We did not play a perfect game by any means, but I'm really proud of our guys for continuing to work hard and buy in. It's a tremendous challenge for us Thursday against Palm Beach Central. We're looking forward to it."