Gardens Comes Up Short In 7A Title Game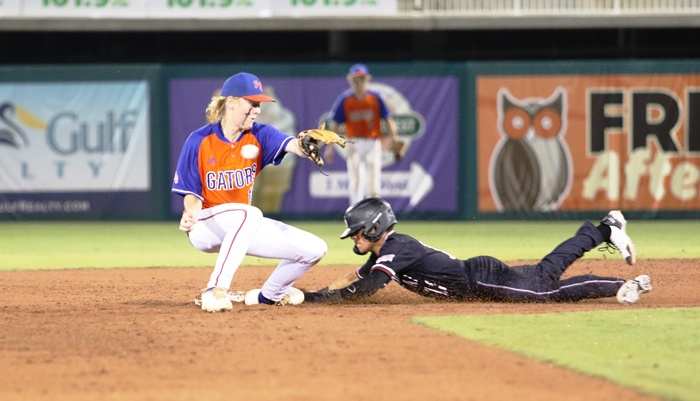 Palm Beach Gardens had revenge on their minds when they entered the 7A state title game Saturday night.
However, every once in a while in high school sports, a team comes along that resets the standard for excellence and domination. A group of players that are so closely connected in every way, that they redefine the heights that can be achieved.
After Saturday nights dominant 10-0 win over Palm Beach Gardens in the 7A state championship game, the Douglas Eagles became one of those teams, a team that has put themselves in rare air, in a place to be discussed among the best high school baseball teams to ever step foot on a field in Broward County.
"I have said for the past two years that there is just something special about this team and this group of seniors," said Douglas Manager Todd Fitz-Gerald. "They have done everything we have asked of them, and have exceeded all expectations. I have coached a lot of very good teams, teams that have won state titles, and I have to say that this is probably the best team I have ever had."
That is a monumental statement from a coach who has won three state titles in the past six seasons with the Eagles, and previously won a state title led by San Diego Padres first baseman Eric Hosmer at American Heritage.
"To win back-to-back state titles, AND back-to-back national titles, is just outside of anything you ever think about as a coach," said Fitz-Gerald. "You obviously always strive to be the best, but to be able to actually execute the way this team did, with the pressure they had on them all year, is just special."
The word special is one that was thrown around by player after player in post-game interviews throughout this postseason.
After taking care of business against Hagerty in the semifinal on Friday, the Eagles faced a familiar foe in the state title game. Palm Beach Gardens is a team that almost ended this Douglas dynasty before it started in last years regional finals. The Eagles miraculously came back to win that game, and have seemed indestructible since.
Coming into Saturday's game, the Gators had intentions of avenging that semifinal loss, having fought all the way back this season to get back to a spot where they could challenge the Eagles once again.
Douglas, however, made sure early that would not be the case.
In each of their playoff games, the Eagles had a different offensive hero that stepped up and delivered the big hit, but on Saturday, it was a complete team effort, one that made the statement that this team was not just made of two or three stars.
Douglas had hits from eight of their nine batters in the starting lineup, and the one player who did not have a hit, second baseman Cameron Harris, has come up with big hits throughout the playoffs, and made several big defensive plays in the title game.
"We are more than just a baseball team," said Roman Anthony, who, while being touted as a high draft pick in the upcoming MLB draft, has continued to play hard and stay humble during this season. "We are a bunch of brothers. We made memories the past two years that will last a lifetime. Most of us are going on to the next level of our careers, but you can never take away what we accomplished together the past two years."
As for Gardens, despite the loss, first-year manager Matt Judkins was more than pleased with how his team performed throughout the year.
"I'm unbelievably proud of our guys this year," said Judkins. "We were written off as a team that was rebuilding after last year, and we made it our goal to get to Fort Myers and compete for a state championship, and we did just that. We had a heck of a run, and I truly enjoyed every minute of being around these guys."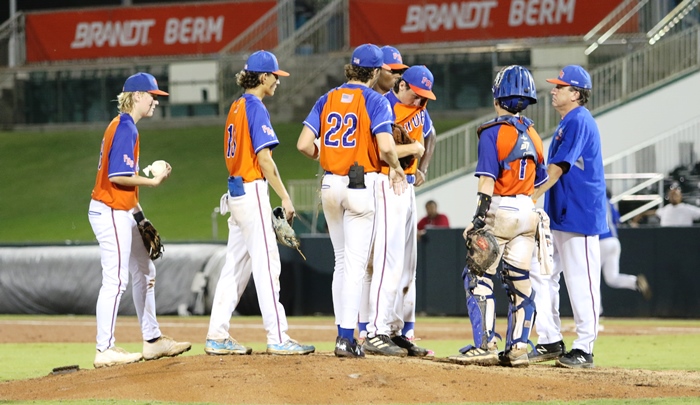 The Eagles hit two home runs on Saturday, the first of which came off the bat of Friday's winning pitcher, Jake Clemente.
After building a 6-0 lead, and with senior Chris Arroyo cruising on the mound, Douglas came to bat and loaded the bases in the fifth inning. With Anthony coming up, the anticipation grew that the senior could end the game with one swing. Swinging at a 3-0 pitch, Anthony lifted a fly ball to left field for a sacrifice fly that made the score 7-0.
"I had a lot of confidence that I was going to end the game right there," said Anthony. "But I knew that even if I didn't Chris would. One of us was going to get it done."
Arroyo then stepped to the plate and send the first pitch he saw deep into the Fort Myers night for a three-run home run, and as Arroyo circled the bases, his teammates waited at home plate to celebrate their second straight state and national title.
"That moment was unreal," said Arroyo. "To have your last high school at-bat be a home run, and for it to end a state championship game, I really just don't even know what to say. These guys mean so much to me, and to have it all end like that was special."
There is that special word again. The win gives the Eagles a combined 58-4 record over the past two seasons, and if there was any doubt they were the best team in the country after winning the National High School Invitational back in April, those doubts were put to bed in the state title game.
"To think about what we have accomplished is crazy," said catcher Santiago Ordonez, another of the teams leaders. "It is just starting to hit me that this will be the last game I play with all my brothers, and it's a lot to think about. We have been so focused all year on winning the next game, and now that we have won the last one, but I don't think it's hit us yet."
After things settled down out on the field, the question started to swirl on just how dominant this Douglas dynasty could be. One thing is certain, while many of the teams top seniors will move on, their manager is staying put.
"I tried to retire right after the game tonight," said Fitz-Gerald (smirking), but Guzzo (Douglas Athletic Director) didn't accept my resignation."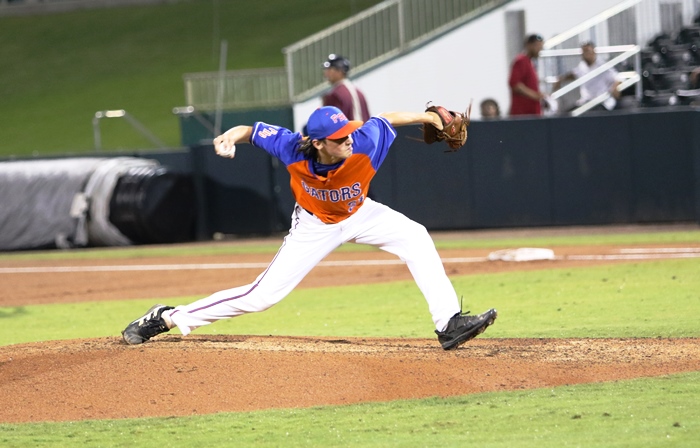 While the discussion of how long this dynasty can last is a debate for another day, on this day, Douglas again proved that they are not only the best team in Florida, but the best in the country.
"This group of seniors did everything they could to make themselves stand out as one of the best senior classes to ever play high school baseball here in Florida. And that is special," said Fitz-Gerald.