St. John Paul Squanders Early Chances In Loss To North Broward
St. John Paul II (7-7) got the best of North Broward Prep (9-8) in February when the two programs faced off in the HSBN First Pitch Elite Tournament, but things went a bit differently in the rematch in Boca Raton on Tuesday.
North Broward cruised to a 4-1 victory this time around behind five stellar innings from team ace Yoel Tejeda Jr., who had plenty of pro scouts in attendance to watch him. En route to earning the win, Tejeda struck out eight while giving up just three hits and two late walks. Meanwhile, his team put together a 3-0 lead for him to safely exit the game without overworking himself. Riley Luft came in for the two-inning save, allowing just one run to score in the process.
It's been an up and down season so far for the reigning 4A state champs, but this was the kind of game that could kickstart a run for a talented ballclub.
"We've had some games where we didn't play so well," North Broward manager Brian Campbell said. "We've had some injuries as well. The flu bug ran through the team, but (consistency) has been the issue with this team all season. We're working on being more consistent day in and day out because we've come out ready to play and lost games we shouldn't have lost. So, hopefully, we're turning the corner on that."
One of the players hit with the bug was Tejeda. This was his first start back from the illness and Campbell was impressed with what he saw despite Tejeda not quite being at 100% after the time off.
"He hasn't pitched in a bit," he said. "The flu affected our team and he was one of the players hit along with four or five others. So, today was his first start in a couple of weeks. I thought he pitched well. He grinded through not having his best stuff and that's the sign of a competitor and a senior leader."
As the game continued, Tejeda said that he felt more and more comfortable, but his night was still cut short after 62 pitches to ease him back in.
"I was just trying to see how my body felt," Tejeda said. "I wasn't really at 100%, but as I threw I kept feeling better and more into game shape. Normally, I go a little longer, but five innings was fine today. I felt good out there."
Up next, North Broward travels to Ransom Everglades (10-4) on Thursday and then hosts Oxbridge Academy (4-7) on Saturday. They're looking to sweep the week and checked off the first order of business with this win.
On the other side of the diamond, St. John Paul II falls back to a .500 record and is looking to get a hot streak of its own going against Benjamin (5-8) and Wellington (5-7) later this week. Both programs may have a losing record, but the Eagles need to play at the level manager Peter Graffeo knows they're capable of.
"I think we can beat anybody when we go out and play good baseball," he said. "We made three errors today and we struck out nine times — three or four times looking. You're not going to win a lot of games that way."
There were some early chances for St. John Paul but none of them came to fruition. By the time the third inning rolled around, Tejeda was in his groove and hard to beat.
"I thought we came out swinging well against a very good pitcher in the first inning and we didn't take advantage of it early," Graffeo said. "Against good pitchers, you want to score early, and we had an opportunity and we made a couple of mistakes. We didn't take advantage of the ball going in the dirt, we made an easy play for them and ran into the third out."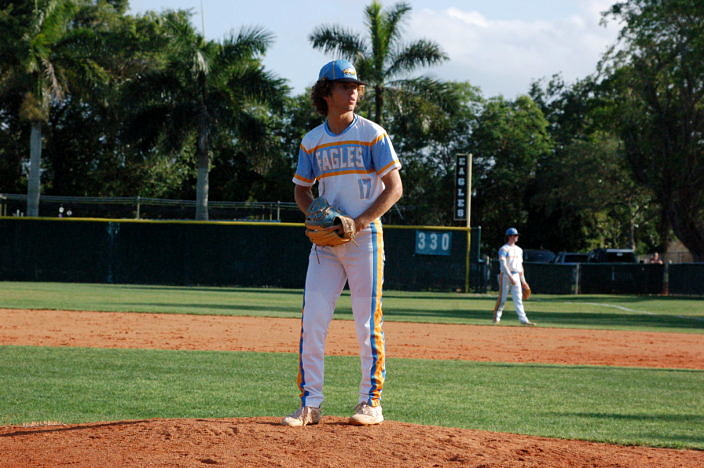 Graffeo will break down the little things over the next few weeks of practice with his team and look to improve as they prepare for the postseason to start. The goal is to make another run to the regional finals and that could mean a rubber match against North Broward if the stars align properly.
St. John Paul's starter, Kevin Freshcorn, said that he hopes to get another shot at North Broward after throwing six quality innings on Tuesday. Three runs crossed under his watch but only two were earned on seven hits. He also struck out four and walked three on the afternoon.
"I thought that we fought pretty well until the end," Freshcorn said after taking the tough loss. "We put the barrel on the ball and it's unfortunate that we had a couple of strikeouts looking but it happens. We'll see them again in regionals and go from there."