Tigers Bounce Back Behind Pitching Gem From Bartolotta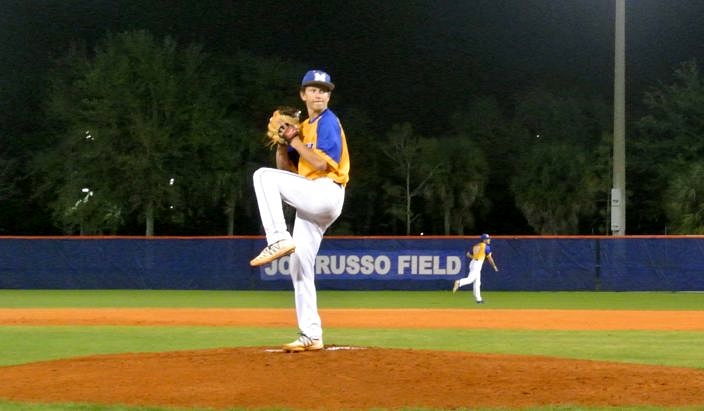 Martin County (4-3) visited Palm Beach Gardens (1-6) tonight  after dropping their last two games, and came away with a much needed boost from starting pitcher Stephen Bartolotta in a 4-0 win. 
"This was a huge outing for us after losing two in a row," said Tigers Manager Brett Hawkins.  "Every time Stephen takes the mound he gives us a chance; he keeps hitters off balance; he throws strikes; he can throw any pitch, any count.  And tonight he was excellent when we needed it."
Bartolotta cruised efficiently through seven innings throwing 51 of his 75 pitches for strikes.  He finished with four strikeouts for his efforts.
Martin County played sharp defense behind their ace to secure the win as well. Palm Beach Garden base-runners were stranded all night. 
"Give those guys credit," said Palm Beach Gardens Manager Joe Russo.  "They made every single play.  It was a clean game from them."
While Bartolotta kept the Gator bats quiet throughout the evening, the Tigers manufactured just enough runs to secure victory.  Palm Beach Gardens starter, Dominic Stagliano set the Tigers down in order in the first two innings.  But the Tigers began the third with a single and a swiped bag from center fielder Ryan Radcliff.  Three batters later, the Tigers scored when Luke Lemond ripped a two-out, full-count curve ball to center to drive in the go ahead run. 
"It felt great to get that one," Lemond said.  "He got up in the count early, but I fought back, worked the count full and expected a curve ball that I took up the middle."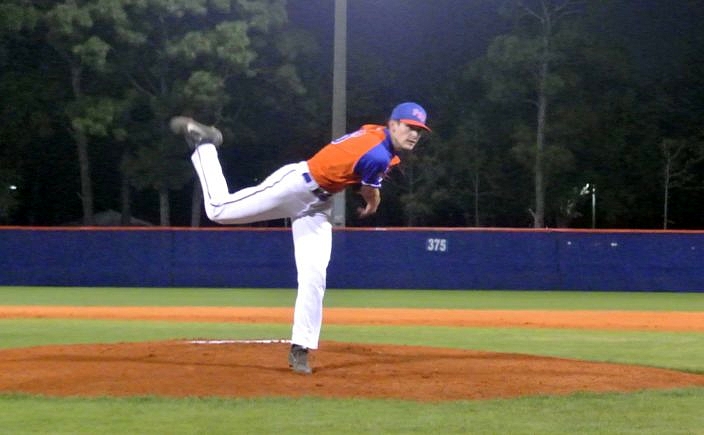 Despite taking the eventual loss, Stagliano pitched well enough to get a win on most nights.  He threw five innings allowing only one run, three hits and striking out five, deploying a potent curve of his own. 
Gator hitters found themselves behind early in counts with Bartolotta pelting them with first pitch strikes throughout the evening.  Russo adjusted their approach in the fifth inning, as Gator hitters began to work deeper into counts and attempt advancement with bunts.  Frustratingly, the Gators were unable to execute their small ball approach.
Bartolotta credits the command of his curve ball as the reason for the silenced Gator bats. 
"It's been a pitch that I have had a lot of confidence in all season," he said "Tonight it got me out of a few tough spots."
For the Gators, hard luck losses have been the theme of the young season.  Five of their six losses have all been within two runs.  Russo expressed the importance of keeping a positive mindset despite the early struggles. 
"There is a lot of talent on this team.  Tonight we had solid pitching from our guys.  Defensively we were good. We're gonna be tough to beat when we battle at the plate and play with more effort."
Bright spots for the Gators included Cade Bush, who clubbed a double early and made challenging, clean plays at third base.  DJ Christian stole three bases.  Dom Presto, the slick-fielding shortstop, had two hits.  And Nick Hoffman had a busy night at second base but made easy work of it with two put-outs and five assists.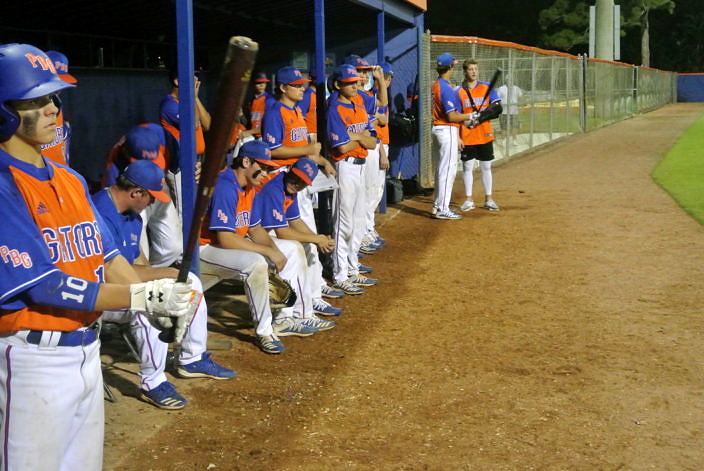 Hawkins called the Tigers win "impressive and mature for a young group of guys. I am very pleased with the way the boys bounced back from the past two games. It shows that they can let a bad loss go and come back the next day to play."
Martin County looks to improve on this win when they take on Royal Palm Beach (4-3) on Friday.