Big Inning Lifts Cardinal Newman Over Royal Palm Beach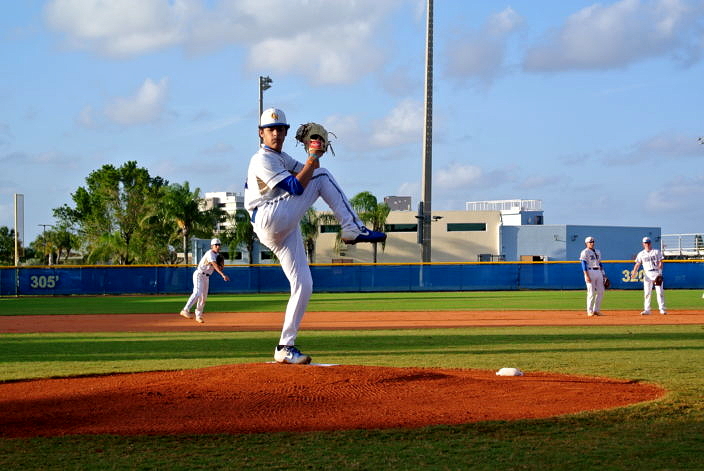 Photo Gallery
Under a picturesque Palm Beach sunset, senior left handed pitcher Dillon Moya led the Cardinal Newman to an 8-1 win over Royal palm Beach at home. The southpaw worked diligently through five innings to earn the win, notching seven strikeouts and allowing only one run.
"Dillon has been fantastic for us," said Cardinal Newman Manager Jayme Edwards. "He works ahead of guys in the count and he is able to locate his breaking ball on command."
Moya peppered the strike zone with fastballs early in counts to set Wildcat hitters up for his off speed pitches.
"I was mainly focusing on my fastball because my arm felt really good today, and it was coming out nice, but my curve ball seemed to be the pitch that got outs, especially later in the game" said Moya.
While the senior pitcher did his part to keep the Wildcats tied up, the Crusaders bats came alive in the third inning and put the game out of distance.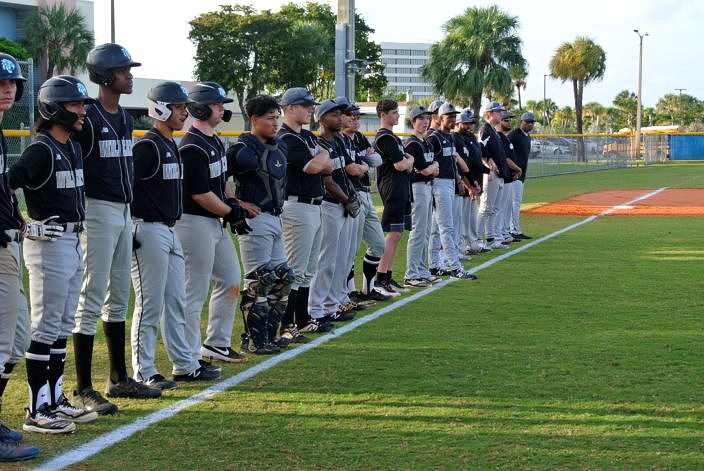 The Wildcats (4-5) struck early in the first inning when senior Soloman Masters lined a double to deep left field that scored Christian Adams. It would be the offensive highlight of the evening for the Wildcats, as Moya and sophomore closer Luis Paolillo combined to shut the Wildcats out for the final six innings.
"I was gonna give the guys a day off tomorrow, but after managing only one run last game and one run this game, we are gonna take batting practice," said Royal Palm Beach Manager Thomas Coates. "We have too much talent on this team not to capitalize on opportunities."
The game was broken open in the bottom of the third when Crusaders first baseman Jack Bello led off with a single to center field. Senior third baseman Christian Sandoval followed with a bloop single to right field. Bradley Hernandez reached first on an errant throw, loading the bases. Senior second baseman Carlo Schiappa then drove a curveball into right-field to tie the game at 1-1 and keep the bases loaded with no outs.
"I just tried to stay back and hit the ball hard in play," said Schiappa.
Patience then paid off for the Crusaders as they worked three bases loaded walks to go up 4-1. Crusaders right fielder Christian Banks put his team ahead 6-1 with a single to center but was thrown out attempting to advance to second on the play.
Delgado was able to get the second out of the inning on a strike out. Jack Bello sliced a single to center to build the lead to 7-1 for the Crusaders. The inning finally ended on a pop out to second base.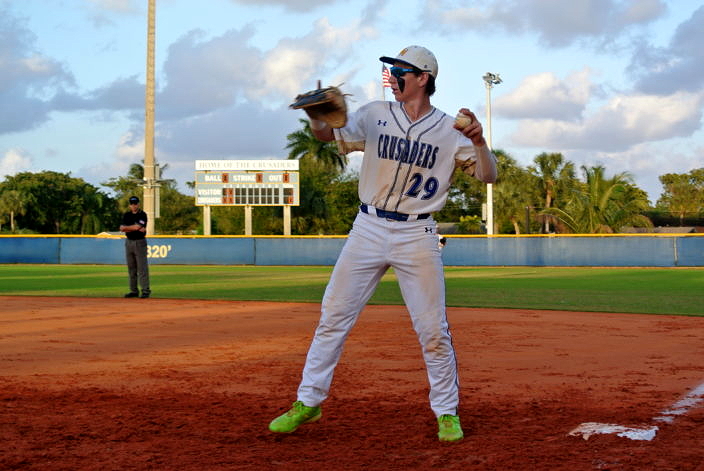 "Delgado hurt himself on the misplayed bunt and unraveled a bit as a result" said Wildcats manager Thomas Coates. "But I'm happy that he composed himself and recovered. He went back out there, let it go and just pitched," said Coates.
The Crusaders added another insurance run in the bottom of the sixth on a towering blast from Roman Anthony that scored Schiappa and put the game out of reach at 8-1 for the Crusaders.
After the game, Wildcat Coates vowed his team would improve.
"Honestly, we have to work. There is no alternative in baseball. Talent alone won't help you to hit a breaking ball. You have to work at it. Tomorrow we are back at it, putting in work, trying to get better."
The Wildcats get a chance to improve on Thursday against the Berean Christian Bulldogs (1-3), while the Crusaders visit the King's Academy Lions (6-2) on Friday.