American Heritage Rolls Behind Berkwich Gem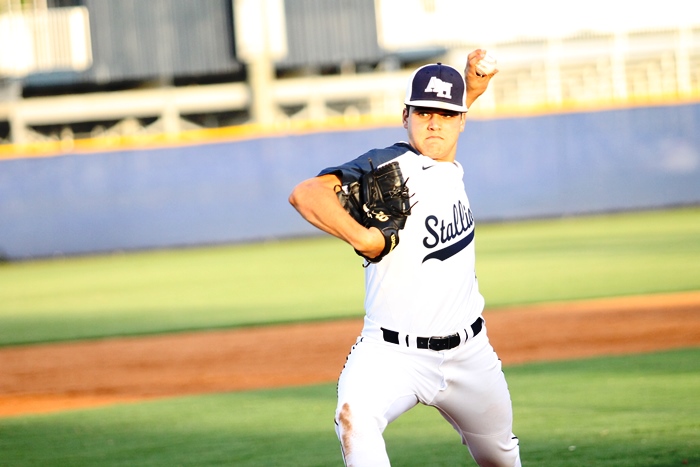 The American Heritage Stallions have not done much wrong on the mound this season. The Stallions came into their district matchup with Cardinal Newman with a county best team ERA of 1.30.
Nelson Berkowicz has been one of the driving forces behind that ERA, and on Tuesday night, all Berkwich did was lower the number. The junior lefty threw six strong innings, allowing only one hit while striking out 10 Crusaders, as the Stallions improved to 19-2 with a 2-0 win.
"I basically have the same approach every time I go out there," said Berkwich. "I try to work fast, get ahead of batters, and mix my pitches up. Tonight I had all of my pitches working and was able to get ahead a lot."
Berkwich did not give up a hit until Orlando Sanchez doubled with two outs in the sixth.
"He's been pitching like that all year," said Heritage Manager Carm Mazza. "Really, our entire staff has been great. Nelson is the type guy that we only have to get a few runs for every time he is on the mound."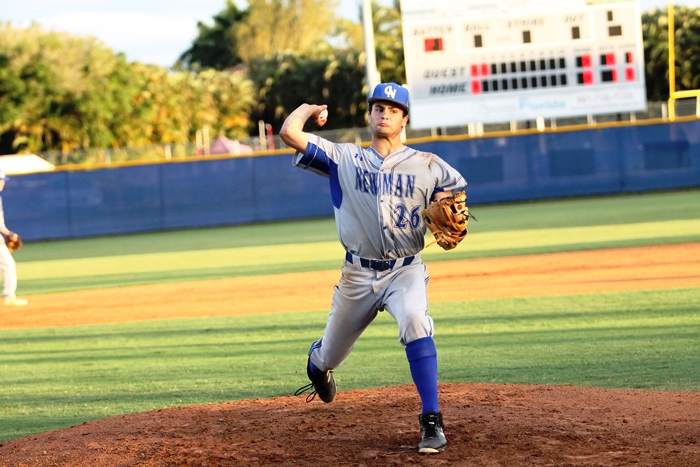 For as good as the pitching has been, the Stallions offense has been equally impressive. They came into the Crusaders game leading the county by a wide margin in home runs. Heritage has 14 home runs, and the next closest teams to them are Jupiter Christian, and district rival Saint John Paul, with six.
The long ball was again key to the Stallions winning ways, as county leader Carmine Lane hit his eighth of the year, giving Heritage the two runs they would need to secure the win. Lane also homered against Cardinal Newman in their earlier meeting this year.
"He is just such a good hitter," said Mazza. "And it's not just the home runs. He hits the ball up the middle, and gap to gap. Everyone has been throwing him off-speed pitches all year, and every time they try to sneak a fastball by him, they just can't."
The final score of this one could have been a lot worse, but strong defensive plays by the Crusaders kept the game tight. Starting pitcher Anthony Badala went four innings, finishing with his only blemish being the two-run homer from Lane.
"Anthony battled tonight," said Cardinal Newman Manager Pudge Poston. "He kept us in the game, but when you are facing arms like they have over there, two runs can be a lot to overcome."
Heritage improved their district record to 10-1, and although they are enjoying one of their best regular seasons in recent years at 19-2, the Stallions are still tied with St. John Paul for the district lead. No other team is within four games of the co-leaders.
"We didn't play our best game last Friday against them (St. John Paul), and we know we are capable of being much better than we were that night," said Berkwich, when speaking about the budding rivalry."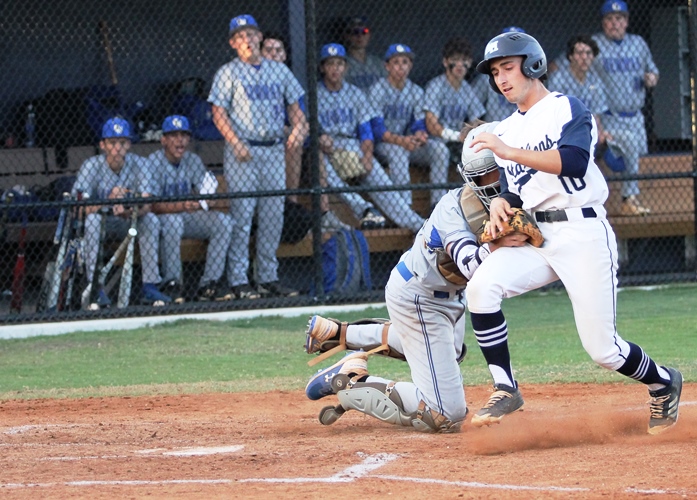 Unlike past years, Heritage is the clear hunted team in their 4A region, something the team is embracing.
"We know teams are coming after us, and we know that in the playoffs one game can take you out," said Lane. "We are just trying to stay focused on one game at a time, and making sure we do all the little things right to keep winning games."
For Cardinal Newman, Tuesday represented another in a line of close district calls that didn't go the Crusaders way. They also know that anything can happen come playoff time.
"This district is so competitive, and records really don't matter. From game to game, anyone can beat anyone on any day. We have had some close games this season in district play, but we just have to keep trusting the process, and getting ready for what is coming here at the end. We feel like when we play our game, we can play with anyone in the district."