Clapp's Three-Run Walk-Off Caps Park Vista Comeback
There are games during the course of a season that can define the personality of a ball club. Up until now, Park Vista has had those moments defined by heartbreaking losses to some of the top teams in South Florida.
On Wednesday night, the Cobras came up with one of those games and moments that propels teams to championships. Park Vista fought back from 1-0, 3-1, and 5-3 deficits, and stunned American Heritage-Plantation 6-5 on a three-run, walk-off double off the bat of Taylor Clapp.
"We have lost some of these games this year," said Park Vista Manager Larry Greenstein. "We have a team that keeps battling back, and it was nice to see them come through and win a game against one of the top teams in the state."
Park Vista's 2019 story started in the HSBN First Pitch Florida Invitational against defending state champion Monsignor Pace. In that game, the Cobras held leads, but were unable to close the door on the Spartans. The Cobras went 0-2 in that tournament, and also dropped two of their next three to fall to 1-4.
Despite the losses, the team knew they were better than their record.
"It took us a while to develop a family atmosphere, one where we can all trust each other on the field," said Clapp, who had gone 0-for-2 before his game-winning hit. "But lately, we have found our groove, and we are starting to play together and play real good baseball."
That they are. With Wednesday's win, the Cobras have now won nine of their last 11 games.
"Early in the year we took our lumps," said Greenstein. "Some of that was my doing. I made sure to schedule tough so that come playoff time they would be ready. Sometimes, that philosophy results in losses. But lately we have started to put things together and are starting to learn how to win these one-run games."
Nolan Schanuel, who was an offensive spark plug in this one, going 3-for-4, with two runs, two RBIs, and two doubles, echoed his coaches sentiments.
"The last few years, we have lost to Jupiter in the regionals," said Schanuel. "This year, we wanted to be ready if we reach that game again, and we are playing well now and getting ready for the playoffs. Hopefully we will see Jupiter again, and this time we will be ready."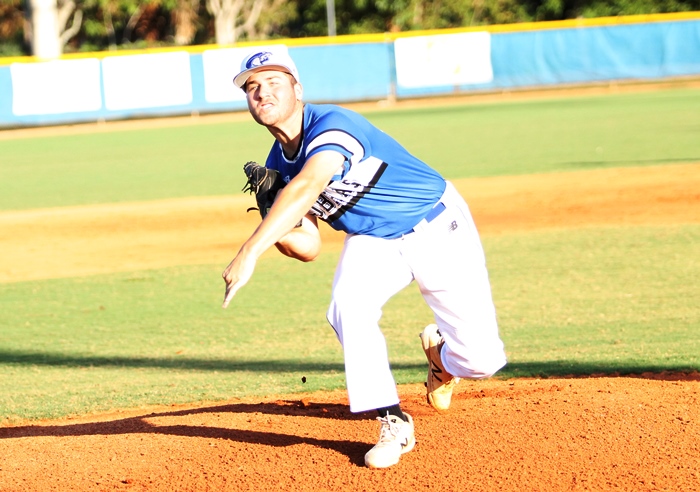 On the mound for the Cobras Wednesday was ace Jake Mannarino. The lefty went four innings, allowing only two earned runs. Despite allowing the Patriots several leads, Mannarino was able to keep his team in the game.
"I thought Jake did a good job on the mound today," said Greenstein. "He gave up a few runs, but he kept us alive until our bats could get going."
Even with the win against one of the top teams in the state, Greenstein, who has brought several of his Park Vista teams to the state tournament, knows that it is a long season.
"This was a big win, no doubt," he said. "But, in baseball, you are only as good as your last game. Hopefully we can continue to build momentum as we head down the stretch, and be ready and peaking when the playoffs start in a few weeks."