Somerset Rides Big Fifth Inning to Down Trinity Christian, 7-5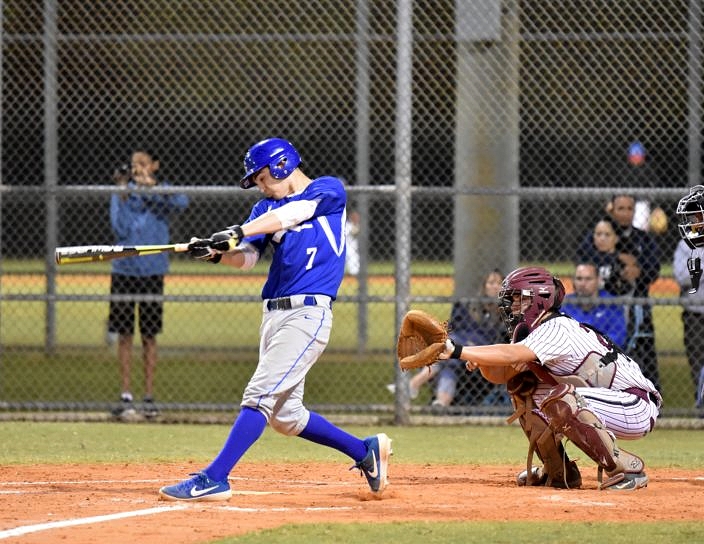 A quiet, low-scoring affair quickly turned eruption-level as Somerset Canyons (1-1) rode an explosive fifth inning to best Trinity Christian (0-3) 7-5.
Early-season records show that it's been hard for either team to get into the win column, but fans would not know this by watching Thursday night's game at the Santaluces Sports Complex.
Every hit – whether it be grounder or line-drive – was hit hard. In some cases, they dropped in open field. Many times, they fell in a well-placed glove. The first head-turning defensive play was made by Cougars shortstop Jake Malloy, who ended a base-loaded threat in the bottom of the third with an athletic scoop and throw to first.
Trinity responded with their own impressive defensive effort. One of many highlight-reel catches was made by Ariel Antigua, who ended the top of the fourth with a leaping grab for the Warriors.
Manager Miguel Cuello pointed toward those plays as one of the continued improvements for the young season. For Cuello, it was about playing cleaner baseball than the team's first two outings.
"We made more contact than we did in the first two games," he said. "[We had] less strikeouts. We played good defense."
Speed also played a tremendous part of both teams' game-plans. Coaches repeatedly gave the green-light to their players – and not just on first base.
The Cougars' Anthony Orcinolo manufactured his own offense for Somerset. After safely getting to first base, he proceeded to steal second, swipe third, and score on an overthrown ball, knotting the game at one a-piece.
"I'm used to it, but I'm just trying to get a good jump," he said after leading the team in steals. "If I get a perfect jump, I feel like I can get to the other bag."
It remained tied until the bottom of the fourth. Immanuel Regales beat an incredibly close throw to first, and the Warriors began a two-out rally that culminated in Patrick Mercadante's two-run double.
And yet, the offense was just getting started – only now, it was Somerset's turn. With redemption on the mind, the Cougars wasted no time in loading the bases before Tanner Martinez obliterated a pitch for a bases-clearing double.
"We felt like they punched us in the face, so we wanted to punch them back in the face," Orcinolo said with a smile. "And we did. I think we punched them a little harder and we got the win."
It turned out to be the deciding factor in an otherwise very back-and-forth contest. All game, Martinez was among the most vocal, leading the dugout cheers for his teammates. It seemed only fit that he was the one to deliver the big-time go-ahead hit.
"I felt great," Martinez said. "I was trying to pump up my team and get something going. I was just thinking the whole game that we're going to do this, and that was just the cherry on top."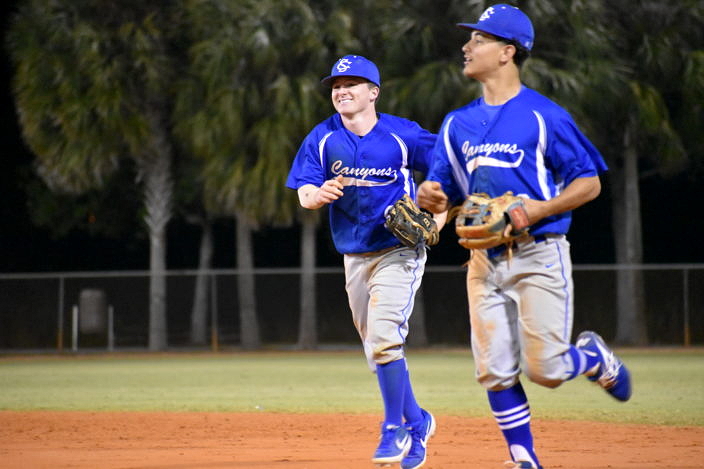 Manager John Drouin echoed the magnitude of the hit, but he also pointed toward the energy of the inning's build-up. Prior to Martinez's double, the fifth featured Greg Wells walking and stealing, as well as Orcinolo punching a blooper over the first base bag for the inning's first RBI.
"It's a boost for the kids because it motivates them. It wakes them up and gets the blood flowing and the juices flowing. And it's like anything else, you keep the train moving, car by car. So that was a big hit."
For Martinez and for the Cougars, it was undoubtedly the biggest of their young season.