Pitching Duels, Late-Game Heroics Highlight Santaluces Slam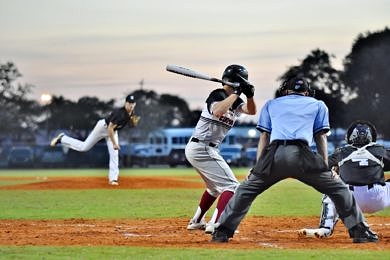 Fans flocked from Palm Beach and abroad to the Santaluces Sports Complex Thursday night, finally getting to see some baseball after two nights of rain.
Parents set up lawn chairs, siblings discussed pre-game gossip, and the youngest threw tennis balls in the fields as if prospect scouts already had them in mind.
The main event was nothing short of what they expected to see: a lot of first-week drama with just a touch of early-season heroics.
American Heritage (2-0) edged out Jupiter (0-2) in a 2-1 pitchers' duel. Benjamin played real-life Buccaneer, keeping Boca Raton (0-1) at bay with a 2-0 win. Dwyer (1-1) and Palm Beach Central (0-1) played a nail-biter to the tune of a 4-3 Panthers victory, and Palm Beach Gardens' offense surged for an 11-2 win over Santaluces (0-2).
The Stallions got their second win in as many games on the arm of Carsten Finnvold, who pitched an absolute gem.
"I felt good. It was my first time throwing that many pitches in a few months," Finnvold said. "My change-up is my best pitch and I can throw it whenever I want."
He certainly did, as opposing batters were often confounded by it; Finnvolds' favorite pitch played as big a part as any in limiting the Warriors' offense to just one run.
"We did what we had to do to win," said Stallions Manager Carm Mazza. "We pitched really, really well. We had the timely inning with a couple of hits and we just knocked it down."
It was the first game on the docket to be decided by one inning, but it was not the last. Just an infield length away, the Buccaneers and Bobcats battled to a stalemate for the first half of the ball-game.
At one point, it seemed as though a line drive toward left field might give the Bobcats an early scoring chance, but left fielder Sean Rooney made an exhilarating dive approaching the foul line for the out.
It was several innings later when Parker Haskin's line drive to right scored the only runs of the game. Tyler Judge sandwiched a single in between walks drawn by Vance Sheahan and TJ Mckenzie before Haskins' bases-loaded, one-out hit plated both Sheahan and Judge.
"Their pitcher was throwing pretty good the few first innings and we weren't really able to get to him," Haskin said. "But we had a little bit of a rally – bases loaded, one out – and I was just trying to do my job and get the guys in. I was able to get a breaking ball that stayed up a little bit and I was able to take a pretty good swing on it."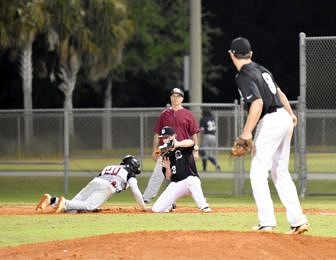 It was the only swing they needed for the rest of the game, as their stellar pitching continued into the seventh inning. In all, three Buccaneers pitchers scattered eight hits from the Bobcats in route to the 2-0 win. Nick Lutz got the win, having pitched six scoreless innings, allowing six hits and striking out five.
There was a bases-loaded opportunity in the contest between Dwyer and Palm Beach Central as well, but this one came far earlier. The Panthers found themselves pitching into it without any outs recorded, but outstanding poise from Jack Keiser saw them through via three straight strikeouts. Keiser later walked back to the dugout to shouts of "The Machine," a nickname bestowed on him by his teammates following his nearly flawless third inning.
A two-run fourth inning saw the Panthers take a 3-1 lead, but Central almost broken even in the fifth. After a pair of walks, Michael Brooks doubled home Jaydon Graves, and then CJ Kayfus scored on an RBI grounder from Jason Neff.
That's when Jacoby Long came in to pitch with men at the corners and got the final, crucial out. It was the last time that Central would threaten with runners in scoring position.
"We don't have a lot of just straight pitchers," said Manager Alex Morales. "So to pull Jacoby out of center field and say, 'hey, come into the game and get us out of this big spot…' He just did a terrific job. He came in, threw strikes – with our philosophy of going after the hitters, he did a great job doing that – and he was terrific tonight. He was really good and I'm proud of him."
Long also managed two of the Panthers' five hits, scoring one of the team's four runs. It was no surprise that he was greeted by Morales' beaming smile when the game ended.
In the final game of the evening, the one that lasted until after many other teams had left the complex, Palm Beach Gardens (2-0) could find little that went wrong on either side of the ball.
Just about the entire Gators lineup got involved in the first and third innings, as they posted first five runs and then another six.
"The thing I liked about tonight is that we still competed," said Manager Nick Franco. "We battled back. We have a lot of [players] from last year's team not with us anymore, and we're still learning how to play together. We've still got some better baseball ahead of us, I think."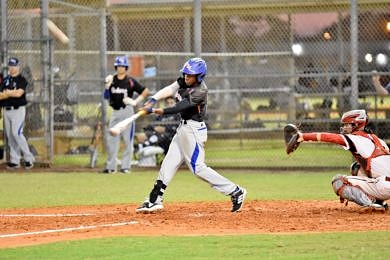 On the other side, Gators Manager Joe Russo pointed towards imperfections that his team can continue to work on, but conceded that scoring 11 runs in an early-season game certainly has its merits.
Catcher Chris Satcher also spoke about the offense doing really well, but he instead pointed towards the pitching as an underrated aspect of tonight's victory: "We went two pitchers, seven innings. I feel like that's something we can really build off of."
Four teams left with wins; four left without. But the season is young, and each has promise. Following such an early-year baseball jamboree, perhaps the most interesting story of all is how each team will use tonight's games as fuel for a season that promises to be a long-burning fire.