Jupiter Brings Home The Gold With 9A State Championship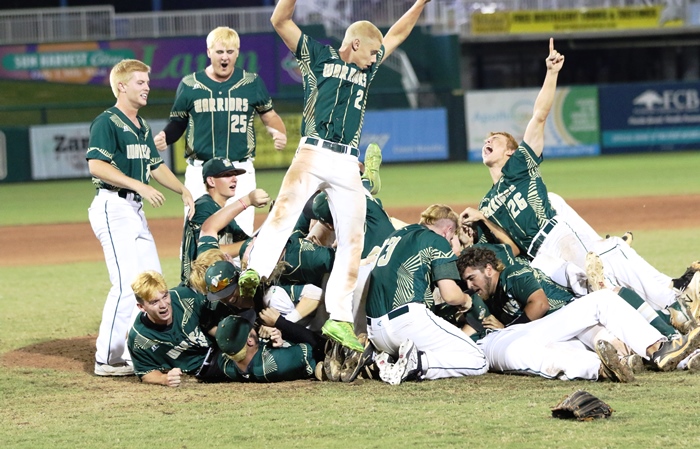 Saturday night's accomplishment was fifty-three years in the making, but it really was a culmination of a body of work that began for the Jupiter Warriors ever since that first pioneer squad led them to the state tournament back in the 2013 season. Since that time, the program continued to evolve and increase the level of competition and the amount of expectations. A year ago the Warriors returned to states and fell in the semifinals, but every bit of the hard work since proved worth it.
With a fire and drive befitting a champion, Jupiter made an improbable run through Saturday's Class 9A state Final Four to close the night as the champions of the largest classification in the state. The Warriors erupted for eight runs in the sixth inning to come back and stun the Columbus Explorers in the semifinal game played Saturday morning, then carried that momentum straight through the title game to earn a 6-3 win over Timber Creek that earned them the champion's trophy.
"I'm speechless," Jupiter manager Andy Mook said. "The whole point is to pushing and pushing and pushing them to keep grinding them out and believing. Seeing them accomplish this just makes me the proudest I've ever been. There's my wedding, and now this. I'm just so proud of how they came together, and especially this group that has been together for so long. We've had some great teams, but this is the one team that just never gave up. I can't say enough about them. The guys who were here last year who were back with us this year really wanted to do this, so they came to work a little bit harder. So I am happy for them. To finish as state champions is just amazing."
Mook joked that he is pretty certain his guys did not score eight total runs in the playoffs prior to Saturday's semifinal outburst. It has been a wild ride that took the team this far, where they earned the right to beat the same team that defeated them and ended their season a year ago.
Perhaps no team knows as well as the Wolves what a tough road it is to win it all. After fighting through to prevail out of a very tough 9A region in Orlando, Timber Creek finally broke through and won it all a season ago. All this year the Wolves had to carry that target on their backs, as every club that faced them gave them their best in an effort to beat the defending champs.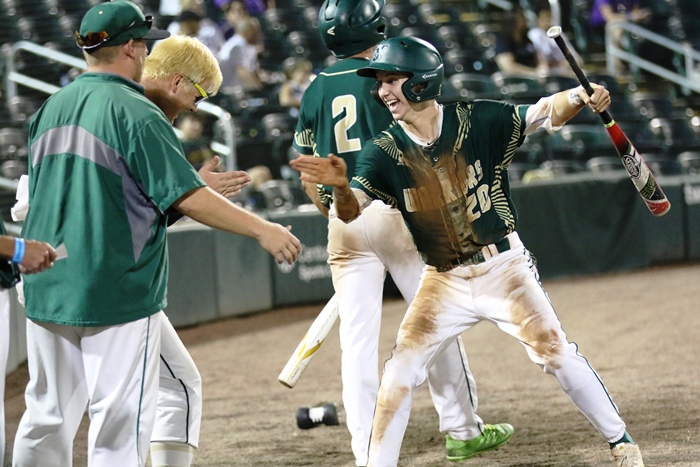 "It was intense, and after we played these guys last year in the semifinals we knew it would be real intense and they would be gunning for us since we knocked them out last year," Timber Creek manager Tim Beaman said. "It was a clean-fought game and their pitcher did a real good job early of moving the ball around and kept us down. We had a chance to get out of an inning and we booted a ball, and that kind of opened the flood gates for them. Then we got back in the game, but it just didn't work out. You have to give them credit with no excuses; they beat us."
Both sides played to a stalemate through the first two frames. Wolves starter Preston Schumacher and Jupiter starter Mitchell Hartigan both locked in appeared heading into a long pitcher's duel.
"You've always got to be ready," Mitchell said. "I was ready. I knew I just had to keep the runs as low as possible, and even if I gave up three my team would pick me up. I felt really good in the bullpen warming up, and adrenaline was running so high that I was just trying to bring this win home for my teammates. I knew I had to click fast."
After the way the Warriors (19-11) swung the bats in the semifinal, it did not take long for them to heat up again. Catcher Logan Etherton set it off with a single to left, before giving way to courtesy-runner Blake Bohlman. Bohlman stole second and Robby Stone walked for another base runner, and Ricky Clark reached with an infield single that loaded the bases. Mitchell then backed his own cause when he laced a liner to third that skipped into the outfield to drive in a pair. Peter Cowley then had an RBI ground out that gave Jupiter a 3-0 advantage.
"It's always great to have one run for a lead. Three runs is more than enough," Mitchell said. "I've been used to working behind in most games. We played a tough schedule and I pitched against some pretty good teams. But when my team gets on and gives me a lead like that, there is no better feeling."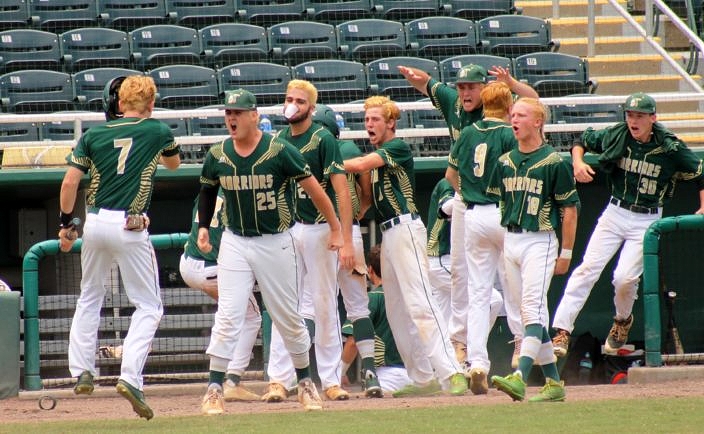 Timber Creek did not let them savor that feeling too long, getting on the board in the bottom of the fourth. Marcos Roque lined a single into the shallow right-center field gap, Parker Smith was hit by a pitch and Parker Wood then lined an RBI double into left field.
"We were looking away and just trying to drive the pitch-count deep," Beaman said. "We were really trying to get somebody on to make the pitcher go from the windup to the stretch, and he got a little wild after that. So we were able to move some runners around and do some things."
Jupiter answered back with the deciding runs in the fifth. Dakota Gaillard was hit by a pitch, advanced thanks to a sacrifice bunt from Stone, moved to third on a wild pitch and scored on a passed ball on a third strike that also allowed Clark to reach safely at first. Mitchell followed with a walk and was replaced by courtesy-runner Duane Hoff. Peter Cowley then stroked a double to right field that plated two runners to open things up.
"Their guy came out throwing pretty well," Mook said. "We had a couple of hits, but he was putting it past us. We knew we were in for a dogfight and we started scraping some things, placed some balls in right areas and then things started coming alive a little bit more. All of a sudden it was 6-1."
Those runs deemed crucial, as the Wolves (22-8) made another scoring push to respond in the bottom of the fifth. Gabriel Cruz smacked a double to center, Bret Neilan walked and Roque sent a liner deep into the left field corner for a double that drove in both base runners.
With the defending champs making that final push, the Warriors were forced to respond. The pitching and defense tightened up, with defenders eagerly charging at balls hit their way ready to make the plays. Junior reliever Chuck Fishbaugh took over to close out the final two frames, recording a pair of strikeouts while retiring the final six Wolves in order.
"We have a never-quit attitude," Clark said. "We don't look at things in a negative way. We just scrape and we scrap; we're a gritty team. We play to the end."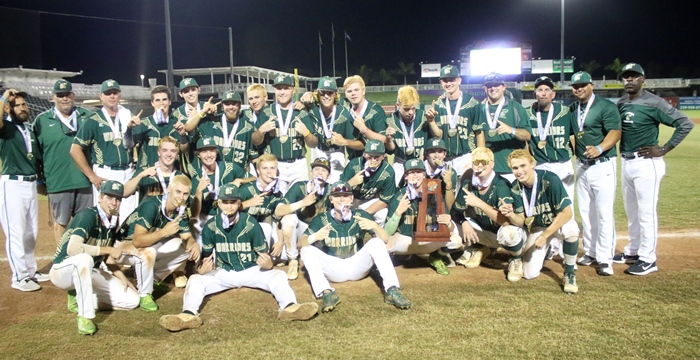 The final out recorded, the Warriors then dogpiled in celebration. Jupiter originally opened way back in 1965, and the current campus took over in 2003. In recent years the baseball program has made some impressive upgrades to their home stadium at Doug Ferguson Field, and now it welcomes its first state championship banner.
As was the case for this year's state winners in the other high state classifications, the Warriors closed the year with more losses than is typical of the champion. Rather than worry about winning every game on a lighter schedule, Jupiter loaded up the opposition and learned from some of the tough losses it dealt with playing high-caliber teams on their home turf.
"We never got more than three games above .500 all year, and you look at those teams that go 20-5 and you think they must be way better than Jupiter. We just had more experience, we play a tough schedule every year and it prepares us every time," Mitchell said.
That process began to evolve over the last five or six seasons, and has now helped to elevate the Jupiter program into elite status as a state champion. Having rewarded all the hard work even of the former players that came before them meant the world to the team.
"When I was an underclassmen I always looked up to the older guys, and I always tried to follow after them and follow their lead," Clark said. "Those guys were legends to me, and just to be part of history is indescribable. This is the best feeling in the world. I honestly cannot describe it. There is no better feeling than this."