Trinity's Miguel Cuello Wins #300 In Regional Semifinal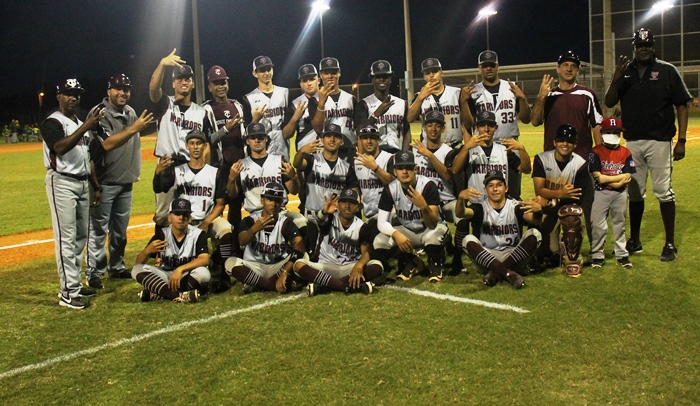 Photo Gallery
When Miguel Cuello helped start the Trinity Christian baseball program back in 2005, the skipper had visions of building the Warriors into a perennial powerhouse, one that would compete for state titles year in and year out.
On Wednesday night, with the help of ace Angel Tiburcio's dominant performance, and an explosive offense, Cuello not only continued to realize his vision, but won his 300th game in the process, a 10-0, 2A regional semifinal win over Miami Brito.
"This is a big accomplishment for me, but I always tell my guys, I haven't won any games," said Cuello. "It's the players that win the games. To win 300 games games, you have to have players dedicated to working hard and getting better, and that is what we have here year after year."
The current version of the Trinity squad is no stranger to big moments. After falling short several times, the Warriors broke through and won a state title two seasons ago, and last year they followed that up by repeating.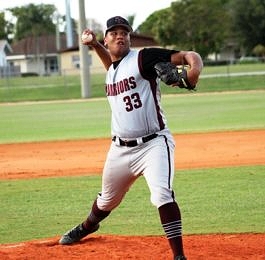 This year's Warriors team is looking for a three-peat, and they had their ace, Angel Tiburcio, on the mound in the semifinal match-up with one of their longest-standing rivals in Brito. The teams have played several times with state finals appearances on the line.
On Wednesday, however, the young Panthers were no match for the experienced Warriors. Tiburcio threw five innings of two-hit ball, striking out six while not issuing a walk.
"I just wanted to get ahead of the hitters today, and mix up my pitches," said Tiburcio. "Early on they had good approaches, shortening their swings and going after the fastball. In the second inning, we switched it up and started to pitch backwards, mixing in some off-speed stuff. And from there we were in control."
Early in the game, the Warriors had a tough time getting their offense rolling against Brito starter Luis Ruiz. Trinity scored one in the first, and the game remained 1-0 into the bottom of the fifth. That is when the Warriors offense took off.
The big blow of the inning came off the bat of clean-up hitter Kaeber Rog, a line drive home run to right. IN all, the Warriors scored nine runs in the frame, ending the game early by mercy rule.
"Our first at-bats, we were all trying to get a feel for what he was throwing," said Rog. "We haven't seen him before, so we needed to learn what he had. After that first time, we all had a better idea, and we started to hit the ball like we know we can."
Fernando Gonzalez set the table all night for the Warriors, going 4-for-4, and scoring three runs. Seven different Trinity players had hits in the game.
"I think our playoff experience showed tonight," said Cuello. "We have a strong lineup that can hit, so it is always just a matter of time before they make adjustments and put runs on the board."
As for Tiburcio, the offensive explosion in the fifth, allowed the Warriors ace to keep his pitch count down, throwing only 58 pitches, and now having an entire week to rest and get ready for the regional finals game versus Miami Christian.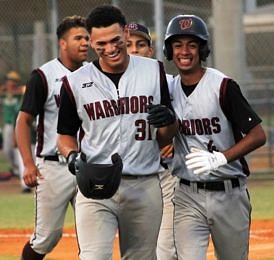 "Keeping his pitch count low at this time of year is a big thing," said Cuello. "That means next week, we will be able to stretch him out without worry, and being a senior, and the leader of the team, he will probably be wanting to go the whole way next week."
As for next week, the Warriors will host a Victors team that spent most of the season among the top teams in Miami. While Miami Christian comes in a talented squad, Trinity players believe their experience will win out.
"We have been here before, and we know how to win these games," said Tiburcio. "Next week I am expecting that we come out and do the same thing we did today, and take care of business to get back to states."
Trinity will have a week to prepare, and although Cuello wanted to keep the focus on his team, and not tell them about his 300th win until after the season, his athletic Director had different ideas.
"I wanted to wait, because I wanted the focus on the team, not myself," said Cuello. "But I talked about it with my AD, and he said, whenever it happens, that is when you are going to celebrate it. So luckily tonight is the night, and tomorrow we go back to getting ready for the regional final here next week."