Lake Worth Christian Falls To Miami Christian In 2A Semi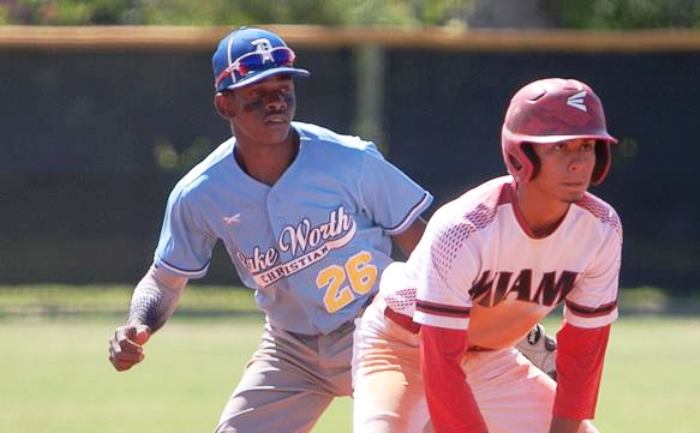 It took them a little while to get the bats going on Wednesday, but when they did the Miami Christian Victors put together three big innings that resulted in an 11-1 win over visiting Lake Worth Christian in a 2A regional semifinal playoff game. Following two sluggish at-bats, Miami Christian got things going against Lake Worth Christian starter Zjeanwayne Braafhart with consecutive four-run innings to take a commanding 8-0 lead, then ended the game with a three-run sixth.
Sophomore Jose Izzara went 4-for-4 with a home run, double, three RBIs and two runs, and he was at the forefront of the scoring each time. A triple shy of hitting for the cycle, Izzara singled and scored in the third inning, before belting a two-run home run in the fourth.
"I've been preparing for it," Izzara said of his second homer of the season. "I've been seeing the ball really well. I was looking fastball but looking the opposite way. They were pitching us outside all game. I was just looking to make contact."
He did, every time to the plate, capping his big day with a walk-off RBI double.
The Victors (21-5) visit Trinity Christian for a 7 p.m. Tuesday game that will decide the regional championship.
Izzara was one of five Miami Christian players with multiple-hit games in the 15-hit attack. Arnold Ruiz bunted for a single and scored in the third, delivered an RBI single and scored in the fourth, then walked and scored in the sixth.
Lake Worth Christian scratched across a run in the sixth when Tahir Melvins tripled and scored.
Outside of that, it was all Victors. Luis Alcantara, Eduardo Castillo, and Juan Guerra all contributed with a hit apiece in advancing Miami Christian to the region finals.
"Our pitching has been solid all year, but our offense has really been clicking," said Miami Christian manager Chris Cuadra.
The Victors got outstanding pitching from starter Mario Fernandez, who fired four scoreless innings, and from Alejandro Rosario, who finished up with two final frames.
"I was just looking to get ahead with the fastball, I knew my defense would back me up," said Fernandez. "I was mainly going with my fastball but my off speed was landing."