Sunday Morning Chat: Forest Hill Manager Russ Milliken
Forest Hill manager Russ Milliken is one of the longest-tenured coaches in Palm Beach County, who is well-known for his vast baseball knowledge and his contagiously positive personality. He sat down earlier this season with HSBN Editor-in-Chief Rick Duteau to chat about his love for the game of baseball, just before eclipsing his 400th career coaching victory and the fulfillment of helping guide young men into successful adults. Enjoy!
Rick: Coach, welcome, and we are going to start today by jumping into your seniority here in Palm Beach County. Many of the coaches that have come in with you are now retired, what keeps you coming back year after year?
Coach Milliken: The kids, without a doubt. The kids, and the game itself. I always say, 'When I don't enjoy the game anymore, it's time to get out'. I still enjoy the game a great deal. I learn something every year, not only from the coaches that have been here but from the new coaches that are coming in. And the kids themselves, having had a chance to coach in the collegiate league also, it gives me the opportunity to get these kids places that they possibly wouldn't get if I didn't pick up on a few more connections. But what brings me back is the game itself and the kids.
Rick: Like you said too, you guys have a long history here of sending a lot of kids to college from this program.
Coach Milliken: Yeah, we've been very, very fortunate with that. We've had a lot of kids come through. We've had years when we only sent two or three, and we've had years where we've sent all eight of our seniors somewhere. Sometimes it is hit-or-miss, but we always made a pledge to the parents and the kids that our number one goal is to make men out of boys, and our number two goal would be to get as many kids into college as possible. That doesn't mean that every kid goes to play baseball, but every kid that wants to go to college we get them in somewhere. Then our third goal is to play fundamental baseball, and our fourth goal is to win as many games as possible. In some cases, that seems odd. But for me, I can't think of a better way to set your goals. If you really are out here for the kids, you know they are going to be men for a lot longer than they are going to be baseball players.
Rick: What is the biggest change in high school baseball that you have seen since you started coaching until now?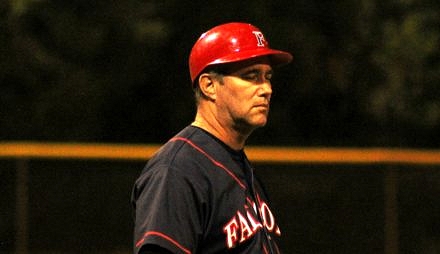 Coach Milliken: Boy, that's a good question. In 34 years it has been a big change as far as the level of talent. I think the talent has just exploded, with all the new training with better coaches, and I'm not saying the coaches in the past weren't good. I just think a lot of the new coaches have experienced so much more information, and just the internet itself gives you the ability to see a lot of information that you wouldn't have gotten otherwise. Then being able to gleam things off of other coaches. I think the biggest is the explosion of the talent level, not only physically, but mentally, in the game.
Rick: If you could change one thing about the current state of the game at the high school level, what would that be?
Coach Milliken: Appreciation of the game. I look back and I see kids that really, really appreciate the game, and there are a couple of kids that you look now and you say, 'Man, I just don't know if they really love this game as much as they should', that they have the talent and you want to say that hey, you've got that talent so now learn to love it. My wife gets me all the time, and it's a question that you just asked that is something that I get burned with at home all the time. She says, 'Not everybody is going to love the game as much as you do, so you cannot expect that from every single person'. Whether it be a coach, whether it be a kid or whether it be a parent, she says I am almost too passionate about the game and that I take it as a religion. She says, 'You go to church every Sunday and you go to baseball every day, so not everybody is as passionate about it as you are and you have to learn to accept that'. But it's difficult.
Rick: I certainly can relate to that… Many young coaches are eager to get into managing, but then when they become managers they only last a year or two. What advice would you give a young coach that wants to have longevity coaching high school baseball these days, and do you even think that is possible in the current landscape?
Coach Milliken: Wow, you have a lot of good questions! All the coaches that I talk to, like the two gentlemen that both coach our JV team, they both played ball for me and they're first-year coaches. I tell them that one of the things you need to understand is, you're working with kids. You need to understand that you need to explain things to the best of your ability so that they understand it and you'll have a lot less conflict. You also need to understand that, at this point, high school baseball is High School Baseball. Unfortunately, you're going to have to raise all of the funds by yourself, you're going to have to maintain the field and you're sometimes going to have to give a kid a ride home. So do I see people coaching for thirty-four years anymore? Unfortunately, no. It's just one of those things that it is difficult to say, 'I'm going to be around for the next 34 years'. I know myself, I probably only have another ten years left. That seems like a long time, but for me ten years is a blink of an eye.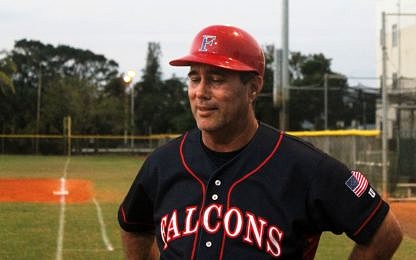 To say that I may only have ten years left in high school baseball it seems like such a short time, when you look back at 34 years. You've blinked and the next thing you know you're the old guy in the league. It's been quite a journey, and been a great one, to be honest. Everybody has their ups-and-downs, and I've had my fair share of both. I've had more ups than I've had downs, and that doesn't mean wins and losses; that means looking at young men grow up and come back. One of the great things we saw this year is one of our sign sponsors, and I know that sounds crazy, but our first sign sponsor is a young man that played ball for me. He didn't get to play much at all, but he called me up and asked could he sponsor the baseball team with a sign? I said absolutely, and so now the first sign that you see when you come inside is Javier's.
Rick: That is awesome. It kind of leads us right to my next question pretty good here. What is the greatest feeling coaching has ever given you?
Coach Milliken: Seeing young men be successful, both on the field and off the field. I've got to tell you, I've had the opportunity to see some guys go play in the Major Leagues, and obviously that's a great feeling. I've had a chance to see young men come back and be teachers, I've got the chance to see young men come back and start their own business, but the key to all of those was I got to see young men come back and say, 'Hey Coach, you made a difference and I really appreciate that'. To have a kid come back and say thank you is worth more than money will ever put in your pocket. Those are things money will never buy for you.
Rick: We talk all the time about players failing, learning from their mistakes, and becoming better players. Give me a time when you, as a coach, failed, made an adjustment, and became a better coach because of that failure.
Coach Milliken: That's probably the easiest question that you've asked. I used to go out there and think that everybody had to hit exactly how Russ Milliken wants you to hit, and everybody needs to field exactly like I want them to. Then I came to realize that we don't have robots out there; we're dealing with kids. So in about the third year of my coaching career one of the coaches that was my mentor said, 'Hey, listen, you can't make robots. Some are going to hit this way and some are going to hit that way'. So all of a sudden it clicked and players became much better because we let them play the way they were accustomed. If they were bad, huge mistakes, then yeah, we corrected those things. But not everybody had to bat like Russ Milliken and not everybody had to be able to throw like Russ Milliken. I had to learn to let players be players. If you look at the big leagues, you'd be hard-pressed to find any one guy that hit exactly the same as the guy batting in front of him or batting in back of him.
Rick: OK, so everybody knows Coach Milliken the baseball coach. Tell us a bit about Coach Milliken the person, away from the field.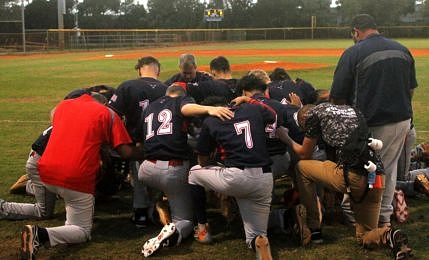 Coach Milliken: I'm pretty diversified, I think. Most people know that I'm extremely proud of my family. My son is in the navy and I am probably over-patriotic, and I get teary-eyed thinking about it. Family and God are way above baseball for me, just miles and miles above that. It is just something that is ingrained in me. I was very, very fortunate in life to have two parents in life that were loving, caring parents. I actually grew up on the back of a shrimp boat with my father, went out on Monday and came back on Saturday. I got to play baseball on Saturdays. My mom, her nickname was The Warden, and she taught me and my family that discipline with love is a huge asset in your life. I've tried to do that with both my baseball team and my kids. My family, we love to camp together, when we get the opportunity. The boys are a little older and one had the opportunity this year, the one who I wound up cutting from baseball, just got extremely big into wrestling. He wound up going from no wins last year to thirty-five wins this year, and just missed going to the States. He wrestles at 122. I just hope people see me more as a father and a teacher as opposed to a baseball coach. I don't think they do, because if I see somebody on the street I never hear, 'Hey Mr. Milliken!'. It's always, 'Hey Coach!', and I take that very seriously. I'm very proud and it's just an honor to be called Coach, and I think people should understand that it is a gift that God has given us to be out here. I thank God every day that I get that, and hopefully I live up to that.
Rick: If you could go back and change one thing about your coaching career, what would it be, or would you change anything? You don't strike me as a guy that would change anything.
Coach Milliken: I've had the same goals for the last 34 years. Would I change a call here or there? Absolutely. But as far as a major change in my coaching career, I would not really change anything. I got fortunate in my coaching career. I was coaching Key West, my hometown, for ten years, and the Good Lord blessed me with the insight to move up to West Palm Beach. I think that was my wife, she wanted to come up here. I don't think I'd change a whole lot of things. I'd change a couple of calls here and there. But as far as staying at Forest Hill, I had an opportunity to go coach at a couple of colleges early on and I passed that up, because I talked to my wife and I went and prayed about it. You see, I had promised the principal at Forest Hill at that time that I would give him three years and they asked me two years into it, and I sad no because we had shook hands on it. To be quite honest with you, when they bury me, they already know that my ashes will be spread out here at Forest Hill High School, whether it's legal or not. I like to play by the rules, but that is the one rule that I will break if I have to. My wife has already promised me that she'll make sure that my ashes get spread at Forest Hill High School.
Rick: Well, I tell you, Coach, we live in a day and an age where a handshake agreement between men does not really have the same sort of value that it used to. So I applaud people like you that still recognize the value in something like that, when you give your word to somebody.
Coach Milliken: Well, that's something that again I was fortunate in life. I grew up in the church with my father and he was not an evangelist or a Holy Roller, but we had a Bible on the boat and they wanted to make sure that their boys and girls came out and valued what morals and values really were. Honestly, I bought my first car on a handshake in Key West. I never filled out my paperwork on it for three or four days later. That is the way my dad taught us, and hopefully we all learned from it. One of the things when I say a handshake means a lot: we don't have a kid that is allowed to leave the dugout without shaking hands with the coaching staff. So a handshake does mean a lot, both physically and morally. We try to teach that and the kids seem to buy into it, and it's something they seem to appreciate.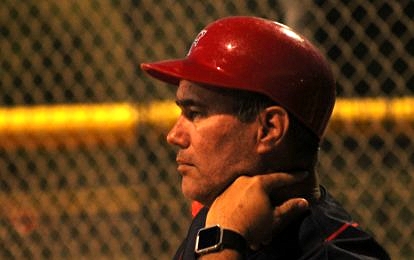 Rick: What is your favorite thing about coaching high school baseball?
Coach Milliken: If you didn't say winning, you'd be crazy! Everybody loves to win and I like to win, but one of the things that I really appreciate is an exciting game. To get yourself into a 1-1 game and then get out of there on top, and to see the kids perform at their very peak and all the things are clicking, that's a great day. That's a great day when you see those kids go out there and succeed at what they've been working so hard at. To be able to see that work, it is special. It is special. I hate to say this, but I've been more excited and happier at seeing a kid succeed than I was when I was playing high school and in college. It is just something about when you are working with that kid and you saw something click, that's a really exciting thing, a really great thing to see.
Rick: OK, last question, Give me the perfect scenario in which you would ride off into the sunset of your coaching career… I guess ten years from now.
Coach Milliken: Ten years from now? I guess, having a bleacher full of former players at a State Championship, and walking out of there with a trophy in your hand. That would be a great thing. The reason why I say that with a bleacher full of fans is because I didn't build this program. I've been here longer than anybody, but I didn't build the program. I was just the guy up front. It was kids that built the program, not me. A lot of people, just chasing win number 400, I tell the kids this all the time and I hope they understand, that I take all the losses. Every loss we've ever had, that's mine, but every win we ever got, that's theirs. I didn't get a chance to swing a bat one time in these last 34 years. So to get a chance to see all those folks that helped put this program together and helped work hard for it, those coaches and players and administrators at Forest Hill, that would be a great way to walk out of here.
Rick: Coach, here's to making that happen, and I know that number 400 is very close, if I'm not mistaken?
Coach Milliken: It's close, like three wins away. I didn't even know it; I don't even keep my record. I have a buddy down in Key West who does and he called me and asked me if I told anyone. I tell him that I honestly try to keep track of what's going on with the kids themselves. When we win, it's great, and when we lose, if it's in a positive way, that's OK, but not great. After that, I do my best to get home and see my wife and kids and say, 'Here is what happened'. Sometimes my wife says that I need to stay at the field a little longer and shake that one off.
Rick: Yeah, don't take it home with you, hahaha… Well Coach, here's to that big moment with win #400, and I again thank you for your time. We appreciate all you have done for baseball here in Palm Beach through the years.
Coach Milliken: Thank you.