King's Academy Falls In Hall Of Fame Classic Opener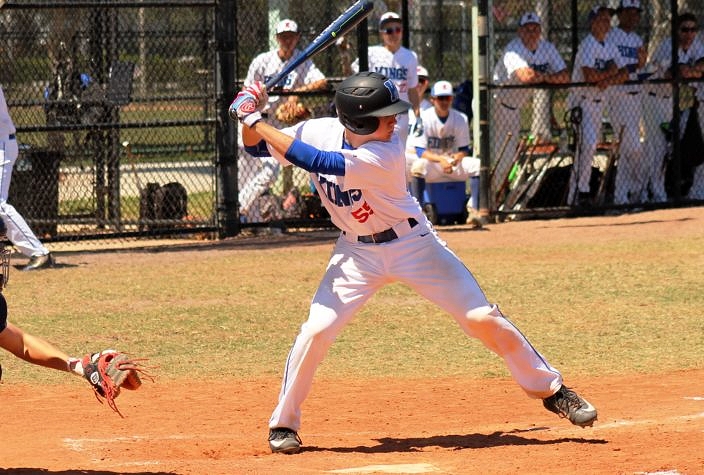 Photo Gallery
Offense was on full display Tuesday morning in the opening action of the Hofball Hall of Fame National Classic at Pompano Beach Municipal Park, as King's Academy fell 8-6 to Covenant Day, North Carolina. King's had nine hits to stay in the ball game, but a five-run fifth inning proved too much to overcome in the end.
After playing complete strangers from out of state, King's will now face a familiar opponent in Palm Beach Gardens on Wednesday afternoon.
Both sides got off to a fast start, as Covenant Day jumped up 2-0 in the top of the first only to have King's respond to tie it up with its first swings. Dylan Costa reached on an error, Cory Croteau walked and Austin Sharkey loaded the bases with a base hit to left field. Rick Neyman then drew an RBI walk, and Sam Cornelius followed with an RBI groundout.
Covenant (5-3) jumped back in front with a run in the third, before breaking things open in the fifth to take an 8-2 lead.
King's (4-6) answered right back in the bottom of the fifth. Sharkey drew a one-out walk and Neyman followed by jumping on an inside pitch and launching it over the left field fence for a two-run home run. Cornelius kept it going with a single that prompted a call to the bullpen, and Jake Gerardi kept up the pressure by working a walk off the fresh arm. Jack Clancy then clubbed a double on a liner down the left field line that drove in both runners.
Covenant Day went back to the bullpen and managed to escape the inning without allowing any more damage. Cornelius collected his second base hit of the afternoon in the sixth, but was stranded on the bases.
In the seventh Darien Rorabeck sparked one final rally bid with a single to center, and Costa walked to put the tying run on base. But a flyout to center ended the game.