Benjamin's Season Ended By Cardinal Mooney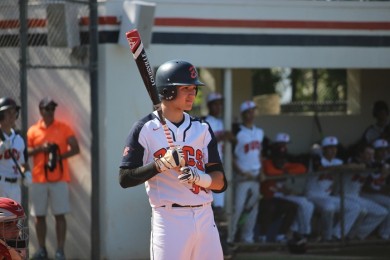 Photo Gallery
After having a nine-game win streak snapped in the district championship, the Cardinal Mooney Cougars were forced to take a three-hour road trip to start the regional playoffs against the Benjamin Buccaneers on Thursday afternoon.
The game itself turned into a long haul, lasting nine innings before the Cougars eked out a 2-1 victory and ensured a pleasant journey home.
In a game dominated by superb pitching on both sides, it became apparent early on that defense would become the deciding factor.
In most cases such as this, it is the first team that cracks that pays the price. In this instance, it was the last team that did.
With the game tied at one apiece in the top of the ninth, Evan Berman led off with a base hit and was sacrificed to second to put the go-ahead run in scoring position. It was then that a Benjamin defense that had been nearly flawless thus far muffed a routine groundball by T. Hebda, allowing Berman's courtesy runner to score and give the Cougars their first lead of the contest.
The Bucs came close to recovering in the bottom half, putting the tying run on second base but Josh Bonynge completed three innings of scoreless, one-hit relief work with a routine grounder to push his team on to the next round.
"Against the the caliber of arms they had, we battled back and got a run in the sixth," said Mooney manager Greg Mulhollen. "Then it was a matter of who's going to make the first mistake and they had an unfortunate play in the ninth that led to us scoring. I tip my hat to my guys. They won."
For a long while, it looked as though that would not be the outcome.
Just as he has been for much of his career with Benjamin, senior Matt Elmeyer was electric and did more than could be asked for to keep his team competitive. Making the start for the Bucs, Ellmyer fanned two batters in each of his first three innings and then another in the seventh. He breezed through the first two innings without allowing a base runner before giving up a pair of inconsequential base hits in the third. He allowed another single in the fourth before zipping 1-2-3 through the fifth. In all, he worked five and a third, struck out eight and walked none while allowing one run.
If that wasn't enough, he racked up four hits in as many at-bats and drew a walk in a fifth plate appearance. He singled back up the box in the first and third innings, astutely bunted for a hit in the fifth and then shot another grounder up the middle to give Benjamin hope with one out in the bottom of the ninth.
"He was special today," Benjamin manager Wesley Logsdon said about his ace. "On a day when you have to step up as not only a senior and a leader but as a pitcher and everything else he pitched really well and did everything he could do at the plate to help himself and help us."
For all of Ellmyer's efforts, it was T.J. McKenzie and Zach Mazur that produced the Bucs' only run. McKenzie's fly ball to right field got lost in the sun and was misplayed, allowing him to take second base. He was driven in by Mazur's double two at bats later.
Other than that run-scoring double, Cougar starter Alex Rodman matched Ellmyer every step of the way and then some. He worked six innings and allowed just the one run while striking out six. He walked only one batter other than Benjamin clean-up hitter Kris Armstrong, whom he conceded first base to either intentionally or by being extra cautious in each of his three plate appearances against him.
"It was a pitcher's duel and I was just trying to throw strikes, trust my defense and let them do some work or me," said Rodman. "That's what we did and it ended up working out."
His offense also did some work for him, rallying in the sixth to tie the game. Lead-off man T. Hebda began the inning by drag bunting for his second base hit of the night, moved to second on an error and was sacrificed to third before Taylor Garris completed his trip with an RBI single up the middle.
For his part, Hebda was confident that his team would find a way to get him around despite having to face-off against Ellmyer
Benjamin claimed their first district title since 1994 this season and while they had bigger dreams, Logsdon is nothing but proud of his club.
"My seniors, especially Logan Taplett and Matt Ellmyer, I've never been more proud of a couple guys who had to step up and be leaders," the Buc's first-year manager said. "A whole new year, a whole new everything, and you've got two guys that have to come in and just take the reigns and they did. They were strong character guys."