8A-10 District Tournament Preview
Host: Park Vista
Schedule:
Monday, April 20th
7:00 PM: (5) Santaluces vs. (4) Spanish River
Tuesday, April 21st
4:30 PM: (3) John I. Leonard vs. (2) Boca Raton
7:00 PM: Santaluces/Spanish River winner vs. (1) Park Vista
Championship
Thursday, April 23rd
7:00 PM: Semifinal winners
Full stats for 8A-10 can be found on the
8A-10 Stats Page!
Overview – This district looks to be a two-horse race. That is not meant to disrespect Santaluces, Spanish River or John I. Leonard, it just goes to show that Park Vista and Boca Raton are both legitimate state champion caliber teams. The Cobras lost just one game, and the Bobcats might not have lost any if not for having to face Vista twice. Barring any stunning upsets, they will end up meeting for a third time in the district championship and possibly a fourth in the regional final.
The other three teams are not without spoiler potential though. John I. Leonard has the easiest road to hoe thanks to a season split with Spanish River that garnered them the third seed. The Sharks are never to be taken lightly when William Harvey is at the helm and will be motivated by the possibility to make school history. Meanwhile, a young Santaluces club has shown much improvement throughout the year and is more dangerous than they look.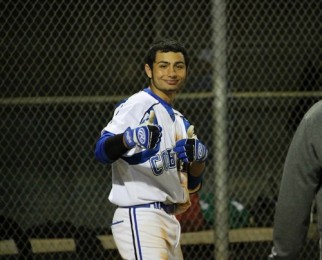 1. Park Vista – No team faces more scrutiny or is under more pressure coming into the playoffs than the Park Vista Cobras. They came within a run of competing for the state championship last year and all but a couple of players from that team returned for another go-round. As a result, Park Vista only lost its first game of the season.
The Cobras went on to post as close to a perfect season as is likely in baseball, winning a phenomenal 24 straight. With such an accomplishment under their belt, and with a roster full of seniors, anything less than the ultimate prize would have to be considered a disappointment for this highly talented team.
Many of those wins were the result of a combination of good fortune and extreme talent. The Cobras excel at finding ways to win tight ballgames, coming out on top in nine one-run contests throughout the season. Sometimes those close wins were due to timely hitting and clutch play but in other instances it was just a matter of catching a lucky break. They came back to beat Jupiter early in the season on three unearned runs in the final inning and escaped a close call with rival Boca Raton just a few weeks ago thanks in large part to a fly ball lost in the sun. Those were the types of breaks that Park Vista did not get in last years state semi-final, so the fact that they have benefited from them this year might lead some to believe that they are a team of destiny.
Destiny means nothing without hard work, however, and Manager Larry Greenstein and his club are well aware of that.
"Don't take any teams lightly," second baseman Dakota Julylia said about what the team learned from last year's run and how they needed to approach this season. "You know, we just need to come out there like it's always the state championship game."
Julylia backed that statement up by hitting .367 during the 2015 campaign. Although they did not post quite the same type of numbers as they did last season, he is joined in the line-up by a healthy sprinkling of .300+ hitters like Nyle Newland, Colin Smith and Matthew Mika. Mika led the team by hitting .427 but after racking up a county-leading 48 stolen bases and 43 runs last season, teams got wise to him this year and he was only able to swipe 26. That number was still good enough for third best in Palm Beach County though and Julylia also finished tied with the third highest run totals. While the individual stats took a dip, the overall results improved, indicating a selfless, team-first attitude that might make the difference in this seasons playoffs.
One area where the Cobras seemed to get stronger was with their pitching. They relied heavily on ace Austin Smith last year but were much deeper this time around, with three other hurlers that allowed well under one run per seven innings. While Smith was his usual self, newcomer Jordan Poore added an astounding 60 strikeouts in just 38 innings of work. Tyler Constable fanned 54 more while posting a 0.83 ERA and Colin Smith gave up just five hits and one run in just over 13 innings. Every one of them gives the Cobras a legitamate chance at victory and that kind of depth will be invaluable during the grind of playoff baseball.
This is a do-or-die season for Park Vista. All the key players on the team are in their final season, and there will be no "We'll get them next year," for consolation if they do not bring home state gold. That kind of motivation along with the experience gained from last year's tough loss make the Cobras a force to be reckoned with and heavy favorites.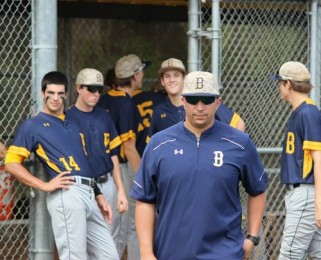 2. Boca Raton – If not for two one-run losses to their nemisis Cobras, the Bobcats might be boasting about a perfect regular season right now. While Park Vista gets all the glory in this district, Boca might be just as good, if not better.
The Palm Beach County offensive leader boards are a virtual "who's who" of Boca Bobcats and the team racked up an astounding .364 cumulative batting average. Michael Amditis is the counties most dangerous hitter. He led Palm Beach by clobbering 6 long balls, driving in 28 runs, scoring 31 more of his own and tied for tops in Palm Beach with a .527 batting average. If that's not enough for opposing pitchers to worry about, T.J. Tamaccio blasted five more home runs and tied for fourth in Palm Beach with 22 RBIs. But wait! There's more! Mike Spooner hit .466, batted in 27 and crossed the plate 22 times while Carlos Leon added 24 more runs to the tally. The bottom line? This line-up is stacked, enough to make even Park Vista's vaunted pitching staff break into a nervous sweat.
The Bobcats' pitching is not bad either. Brothers Dalton and Mitchel Senger join Jagger McCoy to form a crew that posted 1.98 ERA on the season. Mitchell is the staff ace, leading the team in strikeouts and ERA but McCoy was just a hair behind him and Dalton provides a solid third option for manager Scott Morrison. Backing them up is a solid defense that gave up just seven unearned runs throughout the year.
In order to make it to the championship game and earn a spot in regionals, the Bobcats will have to get past John I. Leonard, a team they beat handily by scores of 12-1 and 10-0 in the regular season. From there, the odds point to a rematch against the Cobras. If they cannot win that, they may yet get another chance as they also convincingly beat Jupiter, a possible regional tournament opponent, in the regular season.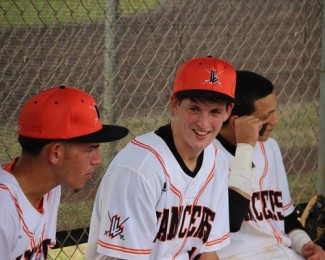 3. John I. Leonard – Doug Magaw returned to manage the Lancers for the first time since 2006 and while the team only won seven games, three of them were against district opponents. That tied them for third place in 8A-10 with Spanish River, who they split the season series with, putting their fate in a coin flip.
That toss went Leonard's way and instead of having to compete in a play-in game and then face Park Vista they now get to open against Boca Raton, where an upset victory will advance them into the regional tournament.
Pulling off that upset would require that the Lancers break out of a six-game losing streak and get the better of a team that dominated them twice in the regular season in the process.
As a whole, the team batted under the Mendoza line throughout the year and the lumber will have to come out of its slumber now that the playoffs have begun. Moise Carrasco and Daniel Hernandez are the team's top candidates to make that happen. Carrasco led the Lancers with 9 RBIs and Hernandez scored the most runs while batting a team-high .333.
Either Jose Garcia, Jordan Brown-Santiago or Carrasco will be tasked with shutting down Boca's big bats. Garcia was Magaw's top option in 2015, logging just over 40 innings and a 3.47 ERA. Whoever draws the start will have a challenge contending with a Bobcat line-up that has been the most productive in Palm Beach County this season.
For some, the road through Boca may seem easier than the one through Vista, but the Bobcats are every bit as dangerous as the Cobras. The Lancers' will have to be at their absolute best if they want to move on.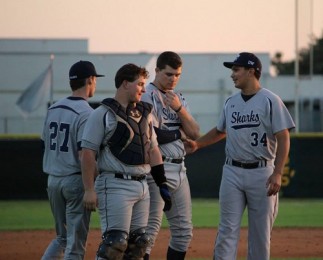 4. Spanish River – Veteran Manager William Harvey always has his Shark's ready to play and his team is better than their 3-5 district mark indicates. They finished the 2015 campaign with a 16-10 overall record and have the talent necessary to put up a fight against the big boys in the 8A-10, Park Vista and Boca Raton. In fact, Spanish River has ousted the Bobcats from the tournament in each of the last two season. They will have their work cut out for them to even have a chance at doing it again this year.
A third place tie and regular season series split with John I.Leonard meant that the Sharks seeding was decided by a coin toss which did not go their way. Now, as the fourth seed, they will have to win two games, the first against Santaluces and the next versus Park Vista, to earn the right to play in the championship and advance to regionals.
The match-up against Santaluces looks to be an interesting one. The two played a couple of tight games this year, with the Sharks coming out on top by scores of 2-0 and 3-2. With such close contests, there's reason to believe that a budding Santaluces squad could sneak up on Spanish River.
It will be interesting to see who Harvey turns to on the mound to prevent that from happening. Ian Morton pitched a complete game shutout when the teams met the first time but the manager has other options as well. Cam Weinberger was the team's ace in the regular season but Harvey may want to save him considering they have to play an extra game in the tournament. Also available are Justin Weidenfeld, John O'Connor and brothers Billy and Zach Marion.
Weinberger and O'Connor aslo came up big for the Sharks at the plate during the regular season series. O'Connor went 2-for-3 in the first game and Weinberger duplicated the feat in the second. Together with Anthony Acino and Austin Hurwitz, they were the best bats the team had to offer in 2015. Each hit well over .300 while Acino drove home 20 runs and O'Connor scored 20 more. Spencer Diaz, Eric Fagerli, Mike Myers and Devin Bard round out a line-up that scored 127 runs and can be dangerous.
If Spanish River manages to navigate the tough road and make it to regionals they will have made history. Never before has the team made it to regional play in back-to-back seasons, and Harvey and his team admitted before the season that it was a primary goal.
"I don't know how far we can go," Harvey said back then. "It's up to their fire and determination. We can lay the framework and the groundwork and give them direction, but they're going to have to decide how bad they want it."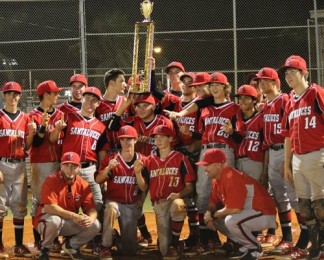 5. Santaluces – Any team caught sleeping against the 9-16 Santaluces Chiefs might be in for a rude awakening. Their overall record is deceiving, as Nick Franco's young squad stumbled out of the gates but eventually learned how to win. A 1-11 start gave way to a six-game, mid-season winning streak and now Santaluces knows they have the goods to compete with anyone.
After using that winning streak to win the GCI Classic over spring break, Franco credited his seniors for the turnaround.
"We had good senior leadership," said the skipper. "Even though we were struggling they kept on working hard. They're showing the young guys that it's a long season and it doesn't matter how you start, its how you finish."
Two of their early losses came against Spanish River, but they were in both games and should be well aware that a couple of good bounces here and there can turn the tides when they meet the Sharks in the opening round of the tournament.
The Chief's underrated batting order is full of hitters that can make a difference in such a contest. Aside from being one of the best defenders in the district, if not the county, freshman shortstop A.J. Orrico led the team with a .426 batting average while serving as the club's lead-off hitter. Austin Smith, Chris Morgia and Anthony Nichols comprise the middle of the order and all are dangerous. Nichols clobbered 11 extra-base hits including two homers while leading the team with 18 RBIs. Smith and Morgia batted .379 and .329 respectively and combined for seven more doubles and 30 RBIs. They all need to be approached with caution by opposing pitchers.
The Chief's own pitchers are a bit of a different story. Chad Tworek assumed the role of staff ace when older brother Justin graduated after last season but it was mostly by default. The team simply did not have any one else with much mound experience. Franco plugged in Case Wager, Ben Fagan and Smith and all had to learn on the job, logging significant innings when Tworek was taken out of the rotation in the early part of the season due to injury. Once Tworek healed, he resumed his role as ace, leading the staff in all major pitching statistics but all four ended up performing admirably given the circumstances. They also received some help from relievers Griffin McKay and Jacob Williams along the way.
The Chiefs are a true sleeper pick in this tournament and should not be overlooked. They have improved a great deal since the beginning of the season have learned how to win along the way. Now that its a win-or-go-home type of situation they'll be looking to put that knowledge to good use.