Boca Kicks Off District Play With Big Win Over Leonard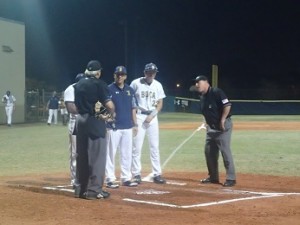 Park Vista and Spanish River may be considered the powerhouses in 8A-10, but on Friday night the Boca Raton Bobcats and the John I. Leonard Lancers set out to prove they could play with the best of them. They squared off in their first district matchup of the young season and timely hitting coupled with some aggressive and opportunistic base running helped the Bobcats to come away with a 9-1 win, improving their record to 3-2 (1-0) on the season.
Boca Raton wasted little time getting things started. Michael Spooner, who crossed home three times despite only notching one base hit, led off with a walk. Two batters later, Michael Amditis, who was a perfect 3-for-3 on the night but didn't score a run, moved him to second with a ground ball single. Left-fielder Michael Smiciklas followed that with a stand-up double that plated Spooner and gave the Bobcats an early lead.
In the second inning, they added three more. Lancers lefty starter Joey Carlton looked to have found his groove, getting a three-pitch strikeout to start the frame. He followed that up with a four-pitch walk though, and in the next at-bat, the Bobcats pounced. Hitting from the nine spot, Junior shortstop Colton Eremian hit a 2-2 fastball over the left-center field fence for a two-run home run.
"It felt really good actually," said Eremian after the game. "I've been struggling the past few games so I got a fastball and I just, I crushed it."
Boca scored the third run of the inning after Spooner got his base hit on a dribbler to third. Carlton's attempt to catch him leaning at first sailed wide and Spooner took off, rounding second and heading towards third, where the throw also was off target, allowing him to head home for the score.
The Bobcats added a run in the bottom of the third when Brian Merritts scored on an RBI double by first baseman TJ Tamaccio, running the tally to 5-1.
In the top of the fourth, Jagger McCoy, who had pitched three hitless innings for Boca, ran into trouble. Designated hitter Nestor Valdez drew a walk then advanced to second on a throwing error. After Victor Suero walked two batters later, Chris Monteagudo stepped into the box with an RBI opportunity. He lined a 1-0 pitch to left field to bring Valdez across and give Leonard their first and only run of the night.
The Lancers loaded the bases with a bunt single by Jorge Reyes in the next at-bat, but McCoy, who would make way for Dalton Singer the next time out, finished his night strong. He recorded his third strikeout before inducing a ground ball back to the mound for the final out of the inning.
With Trevor Valdez, a hard throwing righty, on the mound for the Lancers, Boca struck again in the fifth. They plated four runs on four hits, an error and a walk while getting RBIs from Amditis and Joe Daidone.
It was a big inning all around for Boca newcomer Phillip Santiago, who transferred from rival Park Vista. In the top half, he flashed some leather in left field, making a great sliding catch to rob Lancer Abdiel Hernandez of his second hit of the night.
Then, in the bottom half, Santiago ripped a grounder into left field for a single in his first ever varsity at-bat. No stranger to pressure after quarterbacking the JV football squad at Park Vista last season, he was glad to get things off to a good start.
"It feels good really," said Santiago. "My friends were here to support me and they made me laugh a little to loosen me up."
Santiago was not the only star in the field. Two other Lancers showed off their defensive prowess as well. In the first inning, center fielder Juan Yambo made a sliding grab of a Brian Merritts' flyball, and in the second, second baseman Jose Garcia made a highlight-reel diving stab of a liner smoked his way by Smiciklas.
Despite the loss and dropping to 0-3 on the season, it's moments like those that have John I. Leonard manager Roger Vasquez excited about the future of his club. While admitting to "too many mental mistakes tonight," he also has high hopes for the rest of the season.
"I'm encouraged," said Vazquez. "I was a little disappointed. We're 0-3 now, but I think we're going to turn it around."
Part of the reason for that optimism was what he saw from his kids at the plate.
"The crucial hits didn't come through when they were supposed to, but you can see that they're starting to swing it."
Next up for his Lancers is Glades Central, who they face at home on Monday, February 24th.
On the other side, Boca Raton manager Scott Morrison knows the importance of district wins and is glad to have the first of his career under his belt after taking the helm of the Bobcats this winter. He looks forward to a chance at number two when the Bobcats host the 4-0 Park Vista Cobras on Wednesday the 26th.