Palm Beach Senior All-Star Game Player & Coach Rosters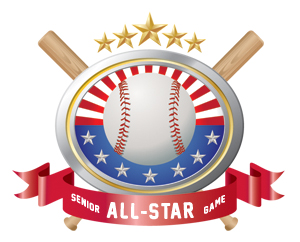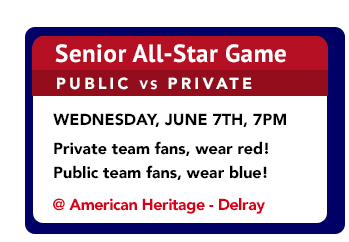 Players, Congratulations! If your name is on the list below, you have made the 2017 High School Baseball Network Palm Beach All-Star game! You MUST RSVP to let us know you will be participating in the game by Friday, May 5th. If you do not RSVP, we will replace your spot with a player from the alternate list.
One mandatory practice will be held Monday, June 5th, at American Heritage, at which, players will receive their jerseys, meet with their fellow all-stars and coaches, and have a photo shoot in their all-star uniform. Practice times will be 6PM for the Private team, and 5PM for the Public team. Players on the Public team should wear gray pants, and their team hat for practice. The Private players should wear white pants and their team hat.
Click here to RSVP now!
Public All-Stars

| | | |
| --- | --- | --- |
| MGR | Scott Riddle | WEL |
| ASST | Louis Siciliano | SUN |
| C | Calvin Greenfield | JB |
| C | Corey Kuchta | WB |
| C | Dylan Arcadipane | DWY |
| 1B | Kyle Khachadourian | DWY |
| SS/2B | Sean Houck | RPB |
| 2B | Joey Devine | SUN |
| SS/2B | Luis Tavarez | BB |
| SS | Jorge Rivera | JIL |
| 3B/P | Chris Astoske | PSL |
| 3B/1B | Tarik Latchmansingh | RPB |
| OF | Austin Dilbert | BR |
| OF | Brandon O'Bryant | OH |
| OF | RJ Sheltra | TC |
| OF | Reese Albert | JUP |
| P/OF | Angelo Brunelas | WEL |
| P/1B | Tyler Lavery | SUN |
| P/1B | Hakim Williams | SAN |
| P | Shane Roberts | DWY |
| P | Justin Allintoff | DWY |
| P | Emanuel Fernandez | PV |
| P | John Campagnulo | WEL |
| P | Hunter Brennan | PV |
| P/1B | Sean Ouellette | BB |
| P | Zach Chivers | JUP |
Private All-Stars

| | | |
| --- | --- | --- |
| MGR | Carm Mazza | AH |
| ASST | Miguel Cuello | TC |
| ASST | Kraig Lawrence | LWC |
| C | Joe Yupp | CN |
| C | Lernix Williams | TC |
| C | Nate Zuckerman | AH |
| 1B/OF | PJ Cimo | SJP |
| 1B | Rovi Mathilda | LWC |
| 1B/P | Joe Bentivegna | CN |
| 2B | Greg Balicki | LWC |
| SS/P | Austin Nirenburg | JC |
| SS/2B | Austin Sharkey | TKA |
| SS/2B | Dylan Costa | TKA |
| SS/C | Austin Smith | BC |
| SS/2B | Alejandro Borjas | OXB |
| 3B | Ricky Neyman | TKA |
| 3B/P | Michael Walsh | BC |
| 3B/1B | Zach Gray | BC |
| OF/SS | Jordan Bustabad | OXB |
| OF | Mike Malinchak | AH |
| OF | Tyler Hall | TC |
| OF/P | Adam Tadeusiak | JCS |
| OF | Harrison Polanin | SJP |
| OF | Michael Pedersen | JC |
| P/1B | Reed Burke | JCS |
| P | Joey Leclaire | JC |
| P | Shane Drohan | CN |
| P | Eli Zuckerman | AH |
| P | Josh Harrell | JC |