Olympic Heights Wins Again, Runs Record To 7-5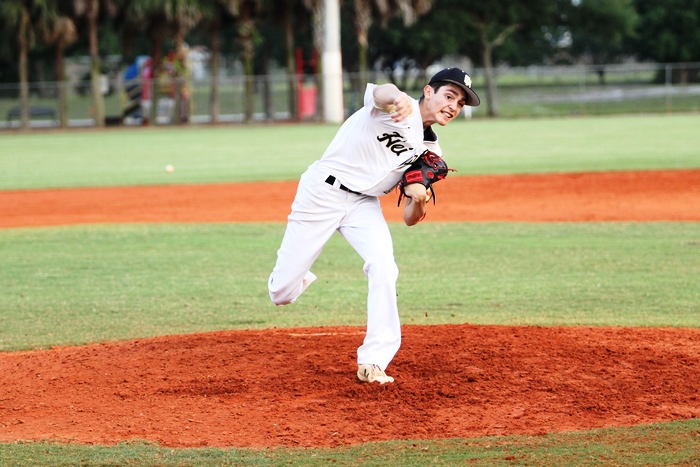 This year's Olympic Heights baseball team is on the verge of changing the culture at the school. A school that has taken their lumps in the first few seasons under Manager Casey Beck, is finally turning the tables and giving out some punishment of their own to opponents on the field.
On Tuesday night, it was Santaluces' turn to meet the new-look Lions. Ace Dom Stagliano pitched five innings of no earned run baseball, struck out six, and walked none en route to a 7-3 Olympic Heights win.
"Many of these guys have been with me for four years," said Beck. "They have seen the losing days, and they want to be the team that changes the program around. They have done a lot of growing up through the years, and now they are starting to realize how good of a team they can be."
While the outcome appeared to be secure, the game was not always easy. On the mound opposing Stagliano was Jamal Johnson. The Chiefs junior was starting his first game of the year after suffering an inujury in the Fall that has kept him off the mound in game action until Tuesday night.
Jackson responded by throwing 65 pitches in four innings of work, allowing only one run.
"It was good to see Jamal get back out there and compete the way he did," said Santaluces Manager Nick Franco. "He was a guy we expected would throw a lot of innings for us this year, and with the injury, he got a late start to his season, but he looked good out there tonight and we are excited with where we are headed as a staff."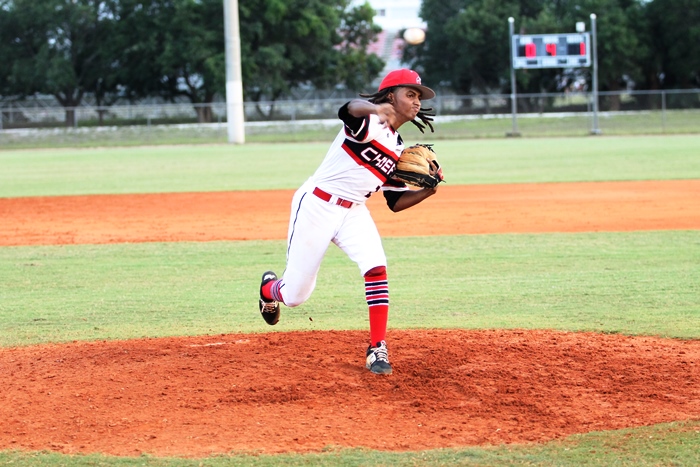 Once Jackson left the game, the Lions offense went to work, sending 10 batters to the plate and scoring four runs in the fifth inning. Jake Luongo, Brooks Lamb, Michael Greff all had hits in the inning. The trio combined to do the majority of the damage for the Lions, combining to go 10-for-12, with four RBIs and three runs.
"Our approaches today were very good," said Beck. "Once our offense got going, it seemed like everyone was doing their job, hitting balls hard, and working the middle of the field."
Lamb concurred.
"It was a good day for us offensively. We have been hitting the ball well, and playing good baseball. The confidence is growing every time we win."
Winning is something the Lions have done a lot of lately. Their only loss in their last five games came at the hands of district rival West Boca, who actually have given Heights their last two losses, by a combinesd score of 7-4.
"Although we lost the two games against West Boca, we feel we were right there and a play or two could have gone either way and we could have won," said Beck. "This is the last year before we go into a different system and it is our goal to get that banner to hang in the gym. It is something we are fully capable of."
With Stagliano on the mound, the team knows anything is possible.
"We know when he is out there that the other team is likely only getting a run or two," said Lamb. "So we know if we can scratch out a few runs we have a great chance at winning."
Stagliano knows also that his offense is good enough to compete with anyone this season.
"We have an offense that can score runs, so I know if I do my job we can win any game. We expect to win games this year, and that is different than in past years. We have been playing good baseball and we look to continue the roll we are on."
As for Santaluces, Franco has been in this position before, and he stressed to his team that despite the 6-10 record, things can turn around in an instant.
"I told them after the game that we have to just keep playing the way we know we can play, and that I've had teams in the past that were struggling and then got hot at the right time towards the end of the season. The same thing can happen this year, it just takes a break or two for a team to get on a roll, and we know we have the guys that can do that. I think they've all just been pressing a bit too much, but we aren't going to panic, there is still plenty of season left."