Bold Predictions: Second Half Stew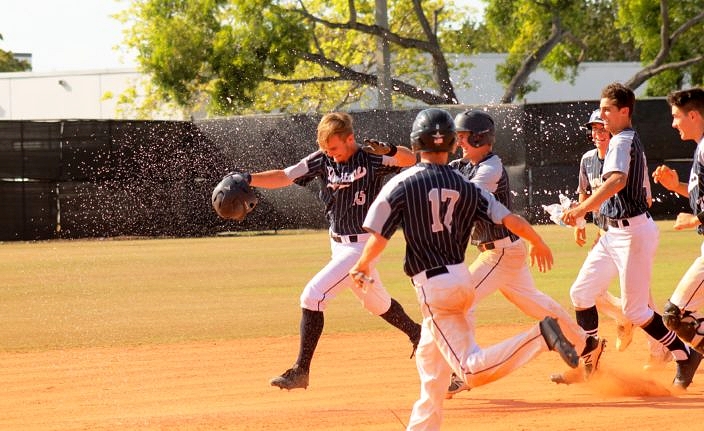 This is the inaugural of our new HSBN feature, Bold Predictions. As the second half of the season begins, HSBN Co-Founder Anthony Uttariello and Editor-in-Chief Rick Duteau give their bold predictions for the stretch run. Enjoy!
Anthony's Bold Prediction #1: The top hitter in Palm Beach will finish with an average under .500.
Currently, there are six players in the county that are hitting .500 or better. Angel Diaz from Santaluces and Domenico Galluzo from Jupiter Christian lead Palm Beach at .577. They are followed by Diaz' teammate AJ Orrico at .568, Galluzo's teammate Noah Noonan at .556, Oxbridge's Jake Mills at .526, and Boca Christian's Noah Torres. The schedule will get tougher down the stretch for each of these players, as teams start to tighten the reigns on how they pitch the county leaders. Also, district races will dictate that pitcher's bear down. I say no hitters are able to stay over .500 by season's end.
Rick's Bold Prediction #1: PalmBeachHighSchoolBaseball.com may never cover another player for a longer career than Berean Christian's Armani Zalez.
Generally a high school baseball career lasts four years, unless you happen to attend a smaller school where lower grades are incorporated into the high school. That is the case at Berean Christian, and dating back to our second year of coverage in Palm Beach County in 2013 Armani Zalez has been playing baseball for the Bulldogs. I first covered him in a game in 2014 when he had a two-RBI double while playing varsity baseball as an eighth-grader. It is crazy to me to think that all these years later he is only now a senior playing his final high school season. It is very hard for a seventh-grader to make the varsity team and therefore enjoy a six-year high school career. Well done Armani!
Anthony's Bold Prediction #2: John Carroll will be in the 3A regional finals
Sure, Archbishop Carroll out of Miami is the defending region champions, and Sagemont has been playing as one of the favorites in the region so far this season. Even in their own district, Highlands Christian gets much more press with hard-throwing University of Miami commit, freshman Nick Anello. But the Rams also have a big ace in Florida State signee Nick Gorby, who has yet to give up an earned run in 20 innings. John Carroll also is no stranger to winning at playoff time, as they advanced to states just two seasons ago. Getting into the regional finals may even be undershooting the Rams' possibilities in 2018.
Rick's Bold Prediction #2: Spanish River will finally win the district title.
William Harvey has kept plugging away dedicating himself to this program for nearly twenty years, and this is the season that the Sharks win a district title. Spanish River has been to the regional playoffs as recently as 2014, but on the road as a district runner up. This season the team has already locked up the top seed in the district, and in 8A-13 that means the number one seed is already into the district championship and also already earned a regional playoff berth. While the Atlantic and Coral Glades battle out for the other spot in the title game, Spanish River will be ready with ace Nick Lyon in the title game. I have faith that the Sharks are going to get it done this year.
Anthony's Bold Prediction #3: One of the top teams in 4A-6, American Heritage, or Benjamin, will get upset in the district playoffs.
On paper, American Heritage and Benjamin look like clear-cut favorites in 4A-6. The Buccaneers lead the district with an 8-1 record, and the Stallions are right on their heals at 5-1. The two teams have at least two less district losses than every other team in the district. That does not mean, however, that either has a clear-cut path to avoiding a playoff upset. The team right behind the top two, Kings Academy, has shown they can play at a high level by already beating Benjamin this year. Oxbridge has beaten Kings, and Saint John Paul played Heritage to a 2-1 defeat earlier this year. Even Cardinal Newman has shown some fight. What does it all add up to? Doesn't mean either top team will lose, but as district playoffs prove year after year, top ranked teams get upset. That is a fact. And this district is as ripe as any if you're looking for a good underdog to root for.
Rick's Bold Prediction #3: Benjamin's Isaiah Thomas will be a high draft pick this June.
I have had the privilege to see Benjamin play a few times this year, and Thomas is hard to miss. Watching the way he approaches hitting and the way he mans his position in center field to anchor the outfield defense is easy to project to the professional ranks. Thomas leads Palm Beach with eight home runs right now, which matches his total over the first three years of his four-year career. At each game I attended fellow coaches, fans, scouts and even umpires have all taken notice of Thomas and the smooth, natural way he plays the game. Benjamin is having a great season, and winning brings further notice. Thomas is on a team where he may not even be the only guy selected in the draft, but I think he will be chosen first.
Anthony's Bold Prediction #4: Santaluces will represent Palm Beach in 9A regional final.
This is probably the most bold of my picks this week. Park Vista has already beaten the Chiefs, and has the playoff pedigree to get to states. Also, Jupiter and Palm Beach Gardens have been to states recently, Jupiter as recent as last season. But, there is something about this Santaluces team that is special. It could be that they came out of nowhere to become one of the top teams in the county this season. It could be their strong pitching. Or, it could be that they just believe they are this good (currently 15-2). Whatever it is, the "It" factor makes them a dangerous team in the district playoffs. They may or may not win the district title, but something tells me the Chiefs will find a way to sliver through a tough regional bracket and find themselves in the regional final.
Rick's Bold Prediction #4: American Heritage-Delray will run its win streak to 14 games and earn the top seed in 4A-6.
The Stallions are currently on an eight-game winning streak, the last victory coming an a walk-off home run from Jacob Lojewski in the bottom of the eleventh inning of the HSBN March Madness Shootout championship. Their next six games are all against district opponents, as they play their second game against each district opponent. Heritage-Delray has not forgotten that last season's state run did not include a district title, and that is motivation the coaches will not let them forget. The depth has been tested and answered, history is on its side after going 11-1 last year in the district last year and the rematch against Benjamin will be played at Heritage-Delray.