American Heritage-Delray's Carm Mazza Earns Win #400
As the conclusion neared to victory on Tuesday afternoon, American Heritage-Delray manager Carm Mazza had a bit of information that he had managed to keep quietly under his hat. The veteran Stallions skipper picked up his 400th career coaching victory following the 13-0 district win over St. Andrew's, which is also a key victory in keeping the club's chances at the top playoff seed alive.
The Stallions (17-5) improved to 9-2 in the district, with a chance to force a tiebreaker with Benjamin, should they pick up the victory in their big, upcoming contest. After Heritage-Delray opened a 2-0 lead in the second when Dylan King drove in Stanley DeMartinis and Bailey Uderitz with an RBI double to center field, the Stallions pulled away with four more runs to open a commanding lead in the fourth. This then allowed Mazza an opportunity to work every player into the game, and a few pitchers even managed base hits in their chance at the plate.
"Once we got a little comfortable with the lead, we had a little bit of fun, and I wanted to get everybody in, which was nice, because nobody knew," Mazza said. "We got every single kid in the lineup card and a couple of PO's got some hits and it was just a fun atmosphere. For me, I love seeing the smiles on the kids faces. But once it was over my wife and kids and the families were all excited and it was nice. For number 400, every single kid played, and that was nice to see. That is kind of how I wanted to celebrate it."
As close as the coaching staff at Heritage-Delray is, none of them realized in advance, and Mazza had not planned to make it a big public display. He simply planned to thank his coaches, including Assistant Coach Manny Sanguillen, who has been with him his entire twenty years. But Mazza's family knew this was a big moment and they made sure to let the entire Stallions family enjoy it together.
"Twenty years at American Heritage it has been about the kids. It has been about being lucky enough to have the support of my school, my coaches, my players and families," Mazza said. "All these wins are at Heritage. After being able to build a program and do so many great things and have so many great kids, it's a special moment. My wife and my kids were very excited and they got the kids and the parents involved, and they were all awesome. They made it a special moment and it was really, really nice."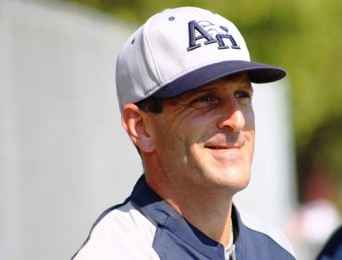 Having been such an integral figure in building the program at Heritage-Delray, Mazza is most grateful that he has spent his entire coaching career at the school. Even after all these years he can still remember what it was like back when he first began coaching the team.
"Back then it was just a rush," Mazza recalled of his earliest coaching days. "I was young and I just remember it being the craziest feeling ever that, 'Holy Cow, I'm in charge of all these young kids and I've got to do the right thing'. I remember it was just a special moment realizing that you are in charge of all of these young men, and you have to do right by them."
Mazza's focus has always been on his players and his team. It should have come as little surprise to his assistant coaches that he did not tell them in advance of Tuesday's milestone. He did not mention it to them before win #300 either.