Tiburcio's 2 HRs Carry Trinity Christian Past PB Central
Over the past decade or more the Trinity Christian baseball program has built a nice legacy of tradition and success. Many special and successful players have left their mark in one way or another, and the team has won the past two Class 2A state titles. But after Monday, the Warriors will always remember the best opening day performance the club ever saw, coming in the form of Angel Tiburcio.
Tiburcio shined from both sides of the diamond to lead the Warriors, first starting on the mound and tossing five strong innings and also adding a pair of home runs from the plate, the second longball accounting for the winning runs as Trinity held on 8-7 over Palm Beach Central in the Santaluces Slam tournament.
With neither club delivering its finest defensive performance, every run made a difference. Trinity led early on after Bryant Colon reached on an error and Tiburcio followed with a blast over the left field fence. Fernando Gonzalez walked and later scored in the fourth, and the Warriors added two more runs in the fifth as Colon came in on an RBI from Kaeber Rog and Jorge Zambrano crossed the plate thanks to a sac-fly RBI from Gonzalez.
Meanwhile, the Broncos got things going late to swing momentum. After getting on the board with a pair of runs in the fifth, Palm Beach Central jumped ahead 6-5 following a four-run sixth inning. Guillermo Garcia reached on an error and Jayden Graves singled to drive him in. Dane Dorsainvil reached on an error and both base runners then scored as Ivan Suarez ground into a fielder's choice. Ramon Molina then gave the Broncos their first lead with an RBI double.
But they weren't done facing Tiburcio. After allowing one earned run on three hits and a walk while striking out seven over five innings, the right-hander turned the game over to the bullpen. But he remained in the batting lineup.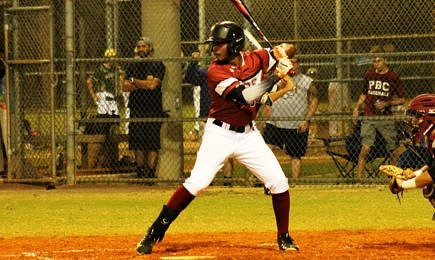 In the sixth inning Colon and Zambrano both walked to bring their power hitter back to the dish. Tiburcio was patient as he worked the count and waited for his pitch, and when he got it he did not miss it. With an unmistakable sound coming off the bat the ball traveled deep to left field, disappearing into the darkness beyond the left field lights.
Yet even as the Warriors celebrated the big moment, the Broncos refused to give up. Central got runners on in the bottom of the seventh as Garcia and Graves both reached on errors, and Dorsainvil scorched another ball that went for a third consecutive error that plated a run and put the go-ahead runner on base.
Warriors reliever Irving Carter got a foul popout and a liner to left that was hauled in cleanly to end the game and hold on to the victory.