Jupiter Walks Off Atlantic To Win Santaluces Slam Opener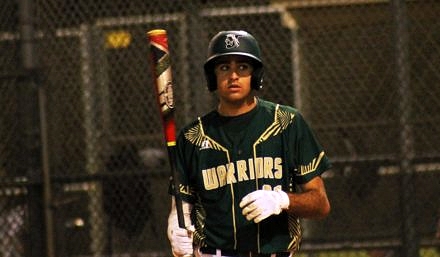 It has been said many times that baseball is a game of inches, and Jupiter's Peter Cowley may know that fact as well as anyone now.
The senior infielder came to bat in a tie ball game with a runner at second base in the bottom of the seventh inning, and he found a place for the baseball with only another inch or two to spare. Cowley sent a very high flare down the left field line to land just within the chalk and just out of reach of the defender for an RBI single and a 4-3, walk-off victory over the Atlantic Eagles in Monday's Santaluces Slam.
After the Eagles rallied for a pair of runs that tied things back up in the top of the seventh, the Warriors answered back with their final swings. Gailland reached base on an error and then alertly moved to second base on a passed ball to put himself in scoring position for Cowley.
"Well, we definitely made some mistakes and didn't do small things needed to win a baseball game. But the guys fought at the end to get the victory, so that's a step forward and we'll try to keep moving forward to get better," Jupiter manager Andy Mook said. "Atlantic did a good job of battling until the end. It's always about how you end the season, but it's nice to start the season with a victory. Gavin Scott did a great for us and he'll just keep getting better."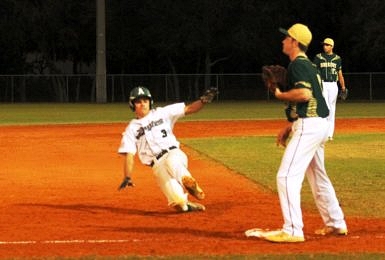 Ironically, the Warriors also tallied their first run of the game on a fly ball that just managed to stay fair, this time along the right field line. Already trailing by a run before taking their first swings, Robby Stone got on via an error and Gaillard followed by scorching a liner to right field that just managed to stay fair as Stone scored easily on the RBI double. Stone later added an RBI that increased it to a 3-1 lead in favor of Jupiter.
Atlantic answered back with its final swings to make it a 3-3 ball game, after Nash Ritter reached on an error that allowed the tying run to score.
A clutch hit from Shelby Frazier gave the Eagles the early lead in the top of the first. Jack Husing singled and advanced all the way to third off an error, and Frazier delivered by lining the ball through the left side of the defense for the RBI single.