Trinity Christian Knocks Off State #1 Archbishop McCarthy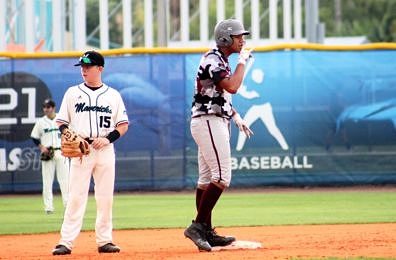 When HSBN Florida #1 Archbishop McCarthy takes the field, it can be assured that there will be a large amount of scouts in attendance, and the result is usually a Maverick victory. On Wednesday, however, the Mavericks were staring across the field at another defending state champion, Trinity Christian.
The Warriors played a nearly flawless game and received five innings of no-hit ball from David Yourke en route to a 5-0 win over McCarthy in the Big 12 Challenge.
"I wanted to schedule these games against American Heritage and McCarthy late in the season because I wanted to prepare my guys for the playoffs," said Trinity Manager Miguel Cuello. "We played a very complete game today, and this will help us be ready in a couple weeks."
McCarthy sent sophomore Yordani Carmona to the mound, and the Warriors countered with Yourke. The two lefties both had their best stuff with them on this afternoon, each striking out four batters in the first two innings.
In the third, Trinity took advantage of an uncharacteristic defensive mistake to plate the game's first three runs. Sherson Randt, Kaeber Rog and Angel Tiburcio all had doubles in the inning. The three unearned runs put the Mavericks behind for one of the few times this season.
"Our approach was to just be aggressive at the plate," said Tiburcio. "When you are facing such a good team and good pitcher, you have to be aggressive if you want to get anything going."
Meanwhile, Yourke was busy keeping the high-powered Mavericks offense off-balance with a mixture of a tailing fastball and sharp change-up. Through four innings he faced only one batter over the minimum.
"I knew when I warmed up in the bullpen that I had good command today," said Yourke. "That lineup is so good and you don't have the ability to let up at all. So I just kept going after them and trying to keep runners off base."
The only jam Yourke encountered all game came in the fifth inning. With two outs, Yourke hit JT Thompson with a pitch and then walked Michael Machin. When JM Fay grounded back to the mound, the lefty escaped without any damage, and the no-hitter and shutout intact.
"He threw a great game today," said Cuello. "He attacked the strike zone and mixed up his pitches well."
In the sixth inning, Trinity struck again offensively. With two outs and nobody on, Yourke reached on an error. Lernix Williams hit an RBI single, followed by a Randt double, his second of the game, extending the lead to 5-0.
When the Warriors came back out for the sixth, it was Jorge Zambrano, and not Yourke, on the mound. So why pull a pitcher who is in control of the top team in the state, and is throwing a no-hitter? For Cuello, that answer was simple.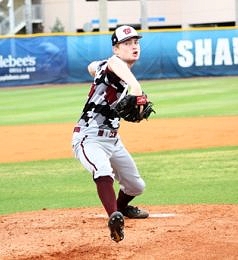 "Not to say this wasn't a big game," said Cuello. "It was. But, there's more important games in a couple weeks in districts and beyond. We stretched him out a bit today, but we had to keep our focus on the bigger picture."
While Yourke wanted to stay in and try for the no-hitter, he agreed with his coaches decision.
"I was around 75 pitches," said Yourke. "That was as as much as I have thrown all year in a game, and the playoffs are more important to us than one game. So whatever call coach made, I was good with it."
The Mavericks, as they do often, immediately jumped on the opportunity to get back into the game. With one out, Andrew Fernandez reached on an error. After a flyout, Joe Perez singled up the middle, breaking up the no-hit bid. Adan Fernandez then walked, loading the bases and setting up the Mavericks for one of their vintage comebacks.
Zambrano, however, had other ideas, getting AJ Hendricks to pop out to catcher Williams to end the threat. The Mavericks threatened again in the seventh, but Zambrano was able to shut down the rally and secure the 5-0 victory.
While the Warriors appeared ready for post-season play, McCarthy could only give credit to its opponent on this day.
"You have to tip your hat to them," said Mavericks Manager Rich Bielski. "They played a complete game. Their pitcher did a great job of mixing his pitches and hitting his spots. They are a well-coached team, and they got hits when they needed them today."
For McCarthy, it was a rare loss in a season filled with big wins over powerhouse teams.
"Every team has a game like this during the season at some point," said Bielski. "I'm just glad that for us, it came today, and not down the road in the playoffs."