Trinity Christian Wins The Class 2A State Championship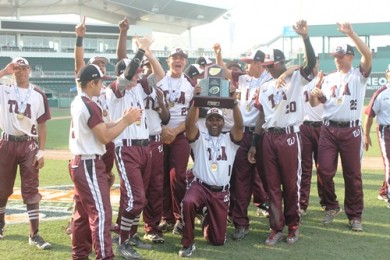 Photo Gallery
Trinity Christian manager Miguel Cuello laid claim to the fact that his 2016 squad is the best one the program has ever had. Thursday afternoon the Warriors paid credence to that fact by winning their first state title in program history with a 12-1 victory over Christ's Church Academy in the Class 2A state championship at jetBlue Park in Fort Myers.
Relying on all of the talents and abilities that the Warriors' deep roster provides, the club relentlessly attacked the opposing Eagles with an offensive barrage that never let up. Every member of the starting lineup reached base as the hitters pounded out 20 hits and nine RBIs. Trinity (23-6) broke open a tie game with five runs in the fourth and six runs in the sixth to end the contest via mercy rule and start the championship celebration early.
"The job is accomplished," Cuello said. "That was our goal this year was to go all the way. It was all or none and these guys were all in it."
Cuello admitted that he knew his guys would hit on Thursday, and that the momentum from Wednesday's semifinal victory would carry over. Even though it took some time to get some runs in, there was no panic in any of them.
"Since the first run scored I told all my guys that we are going to win this," senior Jersely Cicilia said. "Since yesterday when we hit the ball good in the seventh inning, I told them that this game is our game."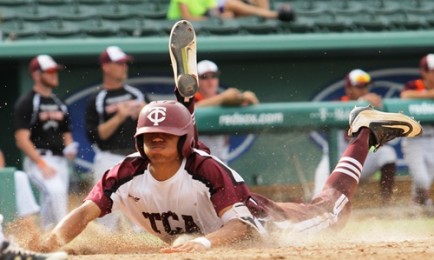 Cicilia was a sparkplug for the team. Hitting out of the nine-hole, the left fielder had a monster day in going 3-for-3 with two doubles, two RBIs, two runs and a stolen base. He drove in Kyle Adderly to put them on the scoreboard in the second, and was then instrumental in turning the lineup back over during the fourth and fifth innings in which Trinity batted around the order both times.
"It's a team game, and we wouldn't be here without our team," Xavier Edwards said. "All nine guys and even the guys on the bench all come ready to play, and if everyone does not contribute we will not play as well as a team. When everything is clicking and we're all clicking we can't be beat."
Playing within the spacious confines of jetBlue Park's Major League field proved to be an asset for the Trinity offense. Seven of the starters had multiple hits, and Aldrich De Jongh, Bertram Murray, Terrence Goeloe and Angel Tiburcio all had three hits each.
"We play at Santaluces Sports Complex as our home field and it is one of the biggest fields around, so we don't play in a small field," Cuello said. "Once the ball gets into a gap on those outfielders, we're taking two and making that outfielder make a perfect throw to second or a relay throw to third base. This place is bigger than Santaluces, but the dimensions are almost the same. So we are used to going the other way, going inside and out and putting the ball the other way."
Christ's Church Academy manager Kurt Dugan admitted that going into the contest there was a lot of concern about Trinity's diverse lineup that featured several left-handed hitters and switch hitters. The Eagles (26-4) started right-hander Josh McDonough and went to southpaw Adam McManus in their first call to the bullpen, followed after that by right-hander Aaron Anderson. Trinity made quick adjustments to each hurler to keep the chain moving and the hits piling up.
"Most teams cannot say that they have three or four switch hitters in the lineup, let alone three or four lefties," Edwards said. "Most teams are right-handed dominant because most kids are right-handed dominant. But we are fortunate to have a lot of switch-hitting kids, so you cannot just go out there and throw a lefty against a left-hand dominant team and dominate them because they won't know what to do. Anyone you throw at us we can adjust really quickly and be ready for it."
Tiburcio picked up the complete-game victory on the mound. The sophomore right-hander efficiently set down the Eagles' batters to allow one unearned run on two hits and two walks. Tiburcio struck out five while needing just 73 pitches to pick up his fourth victory of the year.
Trinity had reached the state tournament three times before, and the championship trophy was a long time coming.
"It is nice to get that monkey off your back," Cuello said. "They always say you can be the greatest coach and have 300 wins, but they are always going to ask you how many championships you won. When you get to the top is when they want to see how you can take that team to win a state championship. It's the same game, but it is just a matter of could you get them there mentally."