Trinity Christian Shuts Out Trinity Christian-Deltona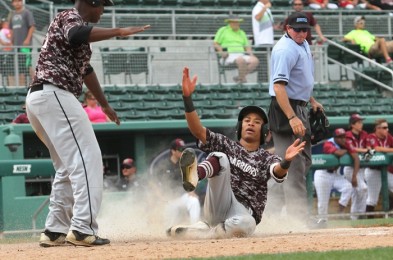 Photo Gallery
Before the season began Trinity Christian manager Miguel Cuello told his players that this would be a big year. With ten seniors and a talented and experienced team, Cuello was confident this was a season that could deliver on big dreams. Wednesday afternoon that dream became a reality, as the Warriors blanked Trinity Christian-Deltona 8-0 in a Class 2A state semifinal at jetBlue Park in Fort Myers.
Trinity Christian will face Christ's Church Academy Thursday afternoon in the 2A state championship, also played at jetBlue Park. Christ's Church Academy advanced with a 2-1, 10-inning victory over Seacrest Country Day in Wednesday's other 2A semifinal.
"They did a great job today," Cuello said. "But as they told me, the job is not done yet. We've got one more to go. It was a great game today, and it actually was a nail-biter until the last inning. They had our guys a little off-balance. We had some good quality hits, but their right fielder was right on top of every ball we hit that way."
Wednesday's meeting featured a rematch of the 2010 Class 1A state title game, which was also the last time the Warriors (22-6) reached the state tournament. As they prepare to make their fourth appearance in the championship game, Cuello admitted that this team may very well the best one the program has ever had. Trinity features a deep amount of pitching, defense and speed that makes it hard to beat.
All of those strengths played out in the Warriors favor to find the club knocking on the door for its first state championship ever.
"This is very exciting for me," senior four-year starter Jowenrick Daantji said. "The first year we were not able to go to states, the second year we did not make it and the year after that we lost in the regional semifinal. But this year we came in with one goal and we wanted to get here, and we are here now."
Leading the way on Wednesday was senior ace Aldrich De Jongh, who went the distance for the complete-game shutout. Needing just 88 pitches, the right-hander scattered four hits and two walks and struck out five. The senior Florida Atlantic University signee had his best stuff when he needed it most.
"I was feeling great just to be able to get the first game," De Jongh said. "I was very confident."
Cuello admitted that it was a little easier for everyone to go out and do their job with a workhorse like De Jongh on the mound. The plan going in was to have de Jongh finish his high school career with a complete game, putting the icing on a season in which he allowed just one earned run all year.
"When you have a good pitcher on the mound, it is always going to take some time to figure out how to get to him," Cuello said. "When it comes to these games, you can do all the scouting you want. It doesn't matter; once you are there you have to adjust. But after we start hitting, it just keeps on going like a domino affect. They got into the game and after that it was pretty much game over there, having a guy like Aldrich throwing like he was."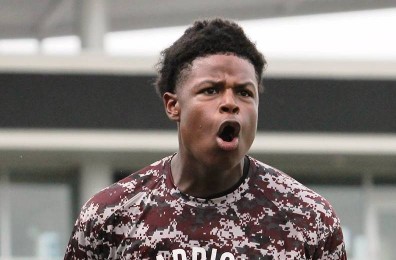 Despite several chances over the first four innings, neither side managed to scratch the scoreboard. The Warriors finally pushed across a run in the top of the fifth for all the offense they ultimately needed. Daantji walked, shortstop Xavier Edwards singled and Edmond Americaan walked to load the bases. Bertram Murray then got under the ball to drive it deep to left field for a sac-fly RBI that plated Daantji for the deciding run.
"I just tried to do my job," Murray said. "I went in there with nothing on my mind. My second at bat I came with a plan and I stepped back in the box and tried to kill the ball the other way."
The Warriors pushed to add some insurance runs, utilizing the immense team speed to try and manufacture a larger cushion. In the top of the seventh the aggressiveness paid off for a mammoth, seven-run frame that put the contest away. Twelve batters came to the plate as the lineup got into a hot groove. Terrence Goeloe had an RBI walk, Lernix Williams followed with a single that plated two runners, Jerseley Cicilia was next with an RBI single, Daantji delivered a two-RBI double and Americaan capped it off with an RBI single.
De Jongh needed just seven pitches to record the final three outs. He was aided in that process by Cicilia in left field, who made a remarkable diving catch to rob Eagles designated hitter AJ Andrews.
"It was eight-to-nothing and our guy made that diving catch in left field like it was one-to-nothing," Cuello said. "That is how the guys have played the whole year. They just don't give up."
Now the team is simply hoping that the bats stay hot and the rest of the pieces continue to click like they have all year. Even with so much at stake, the club is focused on staying even-keel and just doing their jobs.
"To us, it is going to be another baseball game. That's it," Cuello said.