Heritage-Plantation Hits Its Way Past Trinity Christian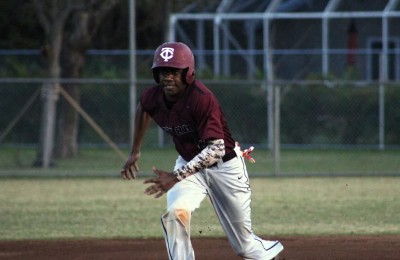 Photo Gallery
A big first and fifth inning for the American Heritage Patriots led them to an 11-2 victory over the Trinity Christian Warriors on Tuesday night.
"It was a good team win today, we're doing our best to get to states," senior leadoff hitter Gary Mattis said.
Patriots' junior Travis Holt started what became the energy of the team with an RBI single in the first inning. This was followed by a two-RBI single to deep right-center by senior Anthony Boix that added to the uproar.
"It felt good to get that first run on the board in the first inning," Holt said. "Mattis got on leadoff and I just did my job. We're just taking it one game at a time."
Sophomore catcher Julio Cortez launched a home run over the left-center field fence in the third inning that kept the momentum going for Heritage (7-0).
"It was a great game against a great team," Warriors manager Miguel Cuello said. "They hit the ball well. Unfortunately, health has been a main concern right now. We have a guy that's hurt, our shortstop, and that changes the whole dynamic of the team. We like seeing the better teams, because I need to let the guys know that when they come here, they come to play hard. They played hard and they didn't give up. You take those two big innings out, that's nine runs, and it could've been a little closer. But that's the way the game goes."
The fifth inning was a big one for both teams as Warriors' senior Freddy Gonzalez got the first hit in the top of the inning to the right-center gap that showed the Patriots they were there to compete and not give up. A wild pitch and a few stolen bases led to two runs for the Warriors (5-3).
The Patriots answered back with six runs that pulled them ahead at 10-2 heading into the sixth inning. A single by freshman Tristen Casas started the heat in fifth, joined by a big two-RBI double by junior Alfonso Guillen.