Sunday Morning Chat: Cardinal Newman's Sam Howell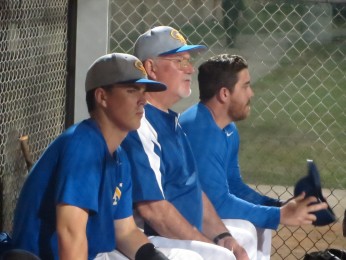 Dan: So, I am here with Cardinal Newman Manager Sam Howell, who took over the program this year from Sean Comfort. Coach, let's start off with giving our readers a little bit of background info in your coaching career.
Coach Howell: Let's see… I started as an assistant at Cardinal Newman. Got the head job at Santaluces. I was there for about 18 years. And then, I had some personal things; I got out and took a sabbatical. Then I coached my son at King's Academy, and then I had an opportunity to coach my daughter in softball. So, I left baseball and coached her for about six, seven years and came back to get a wage. A job at Newman opened and I couldn't pass up the opportunity.
Dan: So after 30 years of coaching at various destinations, you ended up back here where you mentioned where it all started at Cardinal Newman. You graduated from here. How special is that, and did being an alumni effect your decision to move over here this year?
Coach Howell: Well, once I was asked to apply for the job, there was no doubt. I mean, my brother and I had this plan when he retired; I was going to come over and take over. But some unforeseen things happened and he had to get out early and I couldn't leave where I was at so I didn't think I was going to get another opportunity.
Dan: How special is it that you got it?
Coach Howell: It's really special. I mean, I got my very first win against Cardinal Newman. I will have the opportunity to pick up my 300th with Newman, so that makes it very special.
Dan: You mentioned your brother-in-law. Few people know that your brother-in-law is actually Jack Kokinda, who was the longtime Manager here at Cardinal Newman. And you also played for him, as well. How special is that relationship between you two?
Coach Howell: Very special. We have always played twice a year. We'd open up against each other and we finished the season against each other. Win or lose, we would go out for pizza and beer. So, it was always a lot of fun.
Dan: You still hold the Cardinal Newman record for wins, strikeouts, lowest ERA and no-hitters; and you threw six of those no-hitters. Talk about what that means to you, after all these years later, to still have records like that.
Coach Howell: Well, I played on some good teams. I had some good teammates. It's nice. Somebody is going to come along and beat it. Hopefully, they won't beat my strikeout record. I hold the single-season and the career. It would be nice. But, I don't know if anybody will ever beat the six no-hitters.
Dan: Yeah, that is going to be a pretty tough one. In 2013, you were inducted in the Palm Beach County Hall of Fame. You mentioned that you have 294 wins right now going for 300 here at Cardinal Newman. Is there anything you would still like to accomplish now in your career?
Coach Howell: Oh, I would like to win a state championship here at Newman. I was part of the one at Kings in 2001. It would be nice to win one at Newman. That is our goal. District, Regional and then get to the state tournament.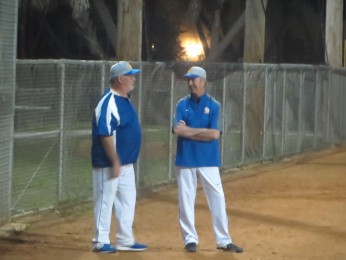 Dan: What is the biggest thing that you think you have to do with this program to achieve that and win a state championship goal?
Coach Howell: Basically, keep them focused. Sean Comfort had it going in the right direction. I just need to continue it and fine-tune some things and that's it.
Dan: Let's switch gears and lighten the mood here a little bit. Tell me something that you do away from the field that your players or readers would be shocked that you do. Maybe a hobby or something different that you do away from the field that maybe a lot of people don't know about.
Coach Howell: I babysit my granddaughter. I do a lot of stuff with her.
Dan: So it is safe to say that both with the relationship you have with your granddaughter and your with brother-in-law, that family is a big thing in your life?
Coach Howell: Oh, yeah. I am Irish. Family comes first. So, that is just the way it is. That's the way it was when I was growing up.
Dan: If you could switch coaching careers with one other Manager here in Palm Beach County, who would it be and why?
Coach Howell: I'll tell you what, probably Jack. We had some great teams when I was coaching with him and they've got great kids at Newman. That would probably be the only one. I think that is where my allegiance is. There are some really good programs, but I think I would rather stay here.
Dan: Alright, you don't have to name the name of the player, or anything, but give me that one time that a player did something so outrageous or outside the realm of anything you ever taught them that you just kind of lost it. You were like, 'I can't believe they just did that!'
Coach Howell: It was at Santaluces, and Coach Greenstein will attest to this. We were doing rundowns and he just refused to do it the way I wanted to do it. We kept going over it and he thought I was having a heart attack. I went off and I tossed him out of practice. But I got the message through, and after that, he ended up coming back. His dad came back and we had a big discussion and he ended up going to Rollins on a ride. He got a lot of money to go there and ended up signing with the Boston Red Sox. So, I guess maybe that helped a little bit. I don't know.
Dan: So, after that, he played your way from there on out?
Coach Howell: From that point on, he did. You have to have discipline. If you don't have discipline, then they are going to do what they want to do. And the worst time, when you really depend on them, do it your way and they do it your way, you could be in some serious trouble.
Dan: On the flipside of that, what is a time when a player did something so amazing or jaw-dropping that you couldn't believe what you just saw, in a good way?
Coach Howell: Again, at Santaluces, we were down to Pensacola Escambia and, I mean, the wind was blowing so hard, the only place that he could hit it, would have been down the left field line. He was a left-handed hitter. And, I will be darned if he didn't hit it right down the line and hit the foul pole. We ended up winning. He was a great player. He holds the record for home runs at Santaluces. His freshman year he was 10-0 pitching. Nothing really surprised me that he did.
Dan: Fill in the blank here. If I never became a baseball coach, I probably would have been…
Coach Howell: Probably a postman.
Dan: Why is that?
Coach Howell: Well, I took the test when I got home from college and I scored high enough to get a job. But the veterans got extra points. And there were three of them ahead of me and they ended up getting a job ahead of me; the couple of jobs that were open.
Dan: We are going to finish on this. I am going to give you a couple of scenarios. You have to tell me which of your fellow managers here in Palm Beach fits this scenario. If I had to win one game to win states, the Manager I would least like to see standing in my way, on the other side of that field is…
Coach Howell: This year would be Park Vista. Because, Larry has got some talent. I mean, he has got pitching. I mean, they hit the ball enough and they play good defense. Pitching and defense wins championships. But, if it was just a Manager, it would probably be Benedict, Scotty Benedict.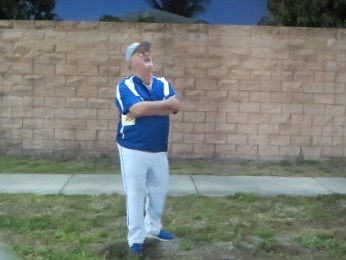 Dan: The Manager I would most like to go out and have a beer with is…
Coach Howell: (laughs) There's a bunch of them. The old-school guys: Larry, Benny, guys like that. Dave Manzo is no longer coaching but… those kid of guys; the old-school guys that run their programs old-school. Those are the guys I would like to go out and have a cold one with. Billy Harvey and those guys. There are a lot of young guys but I don't really know them that well. There are some really good, young coaches. But, I am 60 years old and those guys are probably in their late twenties, early thirties. Who knows? There are a few guys, like Greenstein and that crowd, Benedict, that I would go out and have a couple of cold ones with.
Dan: The Manager that has had my number over the years on the field is…
Coach Howell: Actually, it would probably be Benedict. Because, when he was at Wellington, he had some studs and we would just come up short. We'd lose 3-2, 2-1. You know, there is not much you could do when, every year you have a number one draft pick. I don't think he liked playing against us, either. So, he would be the one guy that had our number.
Dan: This one is going to get a little out there but, if you were alone in a dark alley, who is the Manager you would least like to see standing on the other side of you in that alley?
Coach Howell: Gee, I don't know. Let me think. Gosh, I have to go through my mind. There are a couple of big guys but, like I told my son, I don't fight fair. I fight to win. I am trying to think. There is somebody that is huge. A big ole guy. I can't remember where he is from. I don't know think he is the Manager but the assistant. Gardens has some big guys.
Dan: Are you talking about that assistant over at Jupiter?
Coach Howell: Yeah. He is a big ole fellow. You better be ready. (Laughs)
Dan: Who is a young Manager that reminds you of you when you were a younger Manager?
Coach Howell: There are a couple of them that are fiery. BJ Gilbert down at Lake Worth. He is fiery and he will come out there and argue. There are a couple of guys that are young and fiery. But, after my daughter got hurt, that changed everything for me. It just put everything in perspective that baseball was a game. It wasn't a life or death situation. So, after that it just got put in perspective. I was fiery. I would come charging out on the mound. Now, I have a bad knee and I couldn't make it out there if I wanted to.
Dan: Last one here. The Manager who I consider my closest friend is…
Coach Howell: Well, Greenie and I always trade information so Greenstein, Harvey, you know those guys have been around about as long as I have. In fact, Larry was my assistant for a number of years. And then I was his assistant for a few years. So, probably Larry and Harv and that's about who is left from the old-school guys. There are a lot of new, young coaches that are now coaching in Palm Beach County being good. That is why Palm Beach County baseball is so good because of the great young talent. Most of the coaches that are now, they played so they were schooled by the old-school guys and they have learned. Now they practice to trade. So, there are a lot of good, young coaches in Palm Beach County. We have a couple of tough districts. 8A is tough, 4A, etc. It's interesting, you know, whoever wins those districts seems to go very far in the playoffs. It's nice to see.
Dan: Alright, that's all. Thanks, Coach! Good luck in the rest of the season.
Coach Howell: Thank you!