Jupiter Gains Regional Final Revenge On Douglas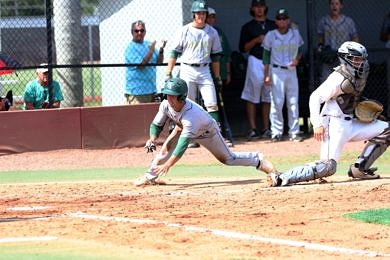 Photo Gallery
The Jupiter Warriors had seen this story before. Last year, the Warriors took an early lead on Douglas in the 9A regional final, before watching the Eagles come from behind and defeat Jupiter on their way to a state title.
This year, the Warriors made sure that history did not repeat itself. Kind of. Jupiter jumped to a 4-0 lead, watched Douglas storm back and tie the game, waited 24 hours, and then exorcised their demons in a thrilling 6-4, extra-inning 9A regional final.
Facing Eagles ace Brandon Kaminer for a second consecutive season with a trip to Fort Myers on the line, the Warriors came into the rematch with a different approach of being aggressive early.
Anthony Servideo and Reece Albert, who were torture on Eagles pitching all game, opened the contest on Tuesday afternoon with a single and double, respectively, giving Jupiter a 1-0 lead. After a strikeout, Andrew Martinez singled home Albert.
In the third, Servideo and Albert struck again. A lead-off single by Servideo and a base hit by Albert put runners on first and third. Mason Doolittle followed with an RBI sacrifice fly, and Martinez' second hit of the day scored Albert, giving the Warriors a 4-0 lead.
Suddenly, the defending champs were on the ropes. Jupiter starter Zach Chivers was cruising into the fourth, mixing up his fastball and off-speed pitches to keep Douglas hitters off balance.
Chad McDaniel, one of the top hitter in Broward this season, finally woke up the Eagles offense when he launched a fourth-inning home run to left. Rafeal Santos and Spencer Dubay both followed with singles, and Ricky Shimko was hit by a pitch, loading the bases.
With the momentum swinging, Chivers induced a 4-3 double play, but the lead was cut to two. John Rodriguez further chopped the lead with a single to left.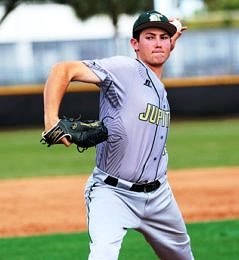 In the fourth, a Dubay double tied the game, and suddenly the defending champs looked like they were poised to again send Jupiter home in a regional final.
This Warriors team, however, was intent on not missing out on a second straight title shot. Reliever Jake Garland closed out the Eagles' rally, and proceeded to throw six innings of shutout baseball.
Kyle Yeoward matched Garland, throwing 65 pitches in five innings without allowing any earned runs.
Just before the game was postponed, Douglas had their best opportunity to punch their ticket to states. Jacob Stanley singled up the middle and moved to second on a balk. Rodriguez then laid down a sacrifice bunt to the first base side, but when Stanley delayed going to third, the Warriors turned the sacrifice into a double play.
When play resumed on Wednesday, Yeoward and Garland picked up where they left off, exchanging zeroes into the 11th. Jupiter was able to scratch out two runs, aided by a pair of Douglas errors.
The bottom of the 11th contained drama, as the defending champs made one last stand. With two outs and nobody on, Brandon Auerbach and David Vazquez hit back to back singles. At this point, Garland had reached his pitch count limit, and Jupiter Manager Andy Mook was forced to make a risky decision.
Mook went with star catcher Mason Doolittle. The move looked like it would backfire when a wild pitch moved the tying runs into scoring position. Doolittle, who had thrown one inning all season, then settled down and struck out McDaniel to end the game and send the Warriors faithful into a frenzy.
Jupiter moves on to face Timber Creek next Friday, at Hammonds Stadium in Fort Myers.